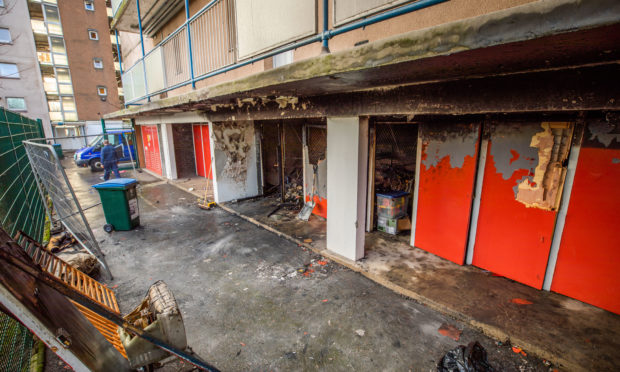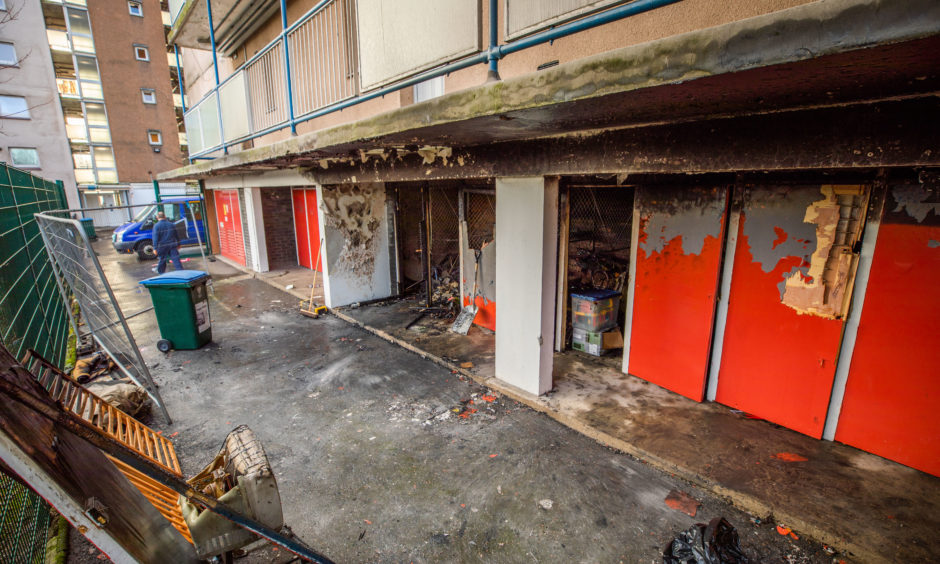 CCTV cameras have been installed at a block of high rise flats in Perth after emergency services were called to three fires at the building within the space of as many weeks.
Perth and Kinross Council's housing officers have beefed up security at the Pomarium Street flats following the spate of fires between December 22 and January 9.
The first blaze began in a storage shed, while the second two were within the bin rooms.
The Scottish Fire and Rescue Service (SFRS) confirmed the incidents were probably started by a cigarette, though their investigation has not shown if the fires were deliberate or through negligence.
SFRS group manager for Perth and Kinross, Billy McLintock, said: "The probable cause was a cigarette.
"How that was put in place we don't have that fine detail."
Mr McLintock stated his team had undertaken safety visits to the block of flats and carried out checks to confirm the high rise was in the condition they should be.
More than 30 residents were evacuated from their homes on the night of the first blaze, while others said they were "living in fear" after firefighters attended the premises for the third time on January 9.
Mr McLintock and the council's head of housing Clare Mailer detailed a number of initiatives being taken to ease tenants' concerns in the wake of the blazes.
Addressing councillors at a housing and communities committee on Wednesday, Ms Mailer said the local authority and fire service had been working in partnership to "enhance security" to help ensure the safety of the residents.
She said: "Since the fires we have installed sprinklers in the bin rooms.
"We have completely cleared the close where the first fire took place and installed CCTV.
"We had a residents meeting and I think that was a very productive meeting. We assured them that we were taking it very seriously."
SNP councillor Grant Laing asked if the changes made to Pomarium Street were being utilised in the rest of the local authority's housing units.
Councillor Laing said: "Have we learned our lessons and rolled this out to the rest of the housing stock?"
Ms Mailer replied that sprinklers had been installed at all new builds while improvement works were being looked at for multi-stories with the possibility of installing sprinklers at "key spots".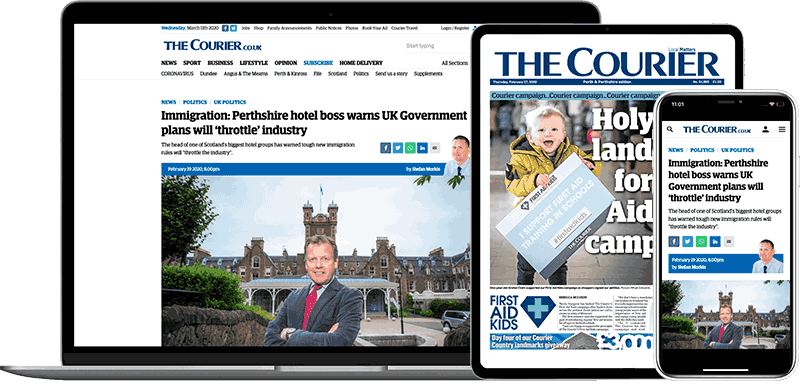 Help support quality local journalism … become a digital subscriber to The Courier
For as little as £5.99 a month you can access all of our content, including Premium articles.
Subscribe