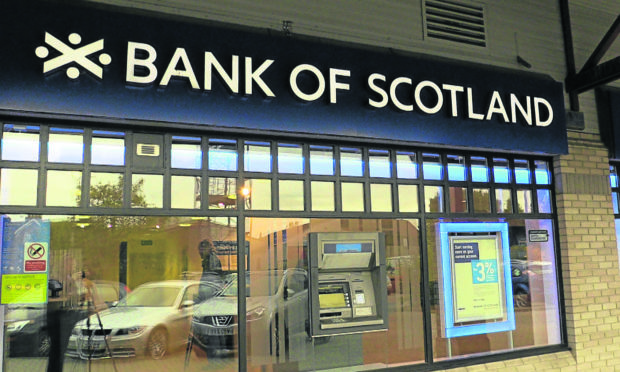 Residents in three Perth and Kinross communities face being left with no local bank branches after Bank of Scotland announced it was pulling out of their towns.
The firm's Kinross, Killin and Auchterarder branches are included in a closure programme that extends to 56 outlets across the UK.
Chiefs say the units will close between April and October this year.
The Bank of Scotland was the last bank in Auchterarder and Killin. Kinross's other remaining bank, the TSB, is scheduled to close in May.
Glen Lyon and Loch Tay Community Council chairwoman Susan Dolan-Betney described the closure in Killin as "a blow."
She said: "Most people who live on the lochside use the Bank of Scotland. Now they'll need to rely even more on the post office.
"The bank that's left in Aberfeldy is only open on a day the buses don't run."
Independent Highland councillor Xander McDade said: "Banks are abandoning rural customers and businesses, leaving no ability to bank cash and making them unsustainable."
Liberal Democrat councillor Willie Robertson said the loss of the Kinross branch would have a major effect on the town.
"Lots of people have naturally migrated to Bank of Scotland since the closure of the other banks, so we thought that would make it safer," he said.
"It's death by a thousand cuts and is clearly a decision made at national level with no local input. People will now need to travel to Perth or Dunfermline to access a bank."
Conservative MSP Liz Smith condemned the closure plans for Auchterarder.
She said: "This is desperately worrying news, most especially for towns where there has only been one banking facility. It will undoubtedly have a detrimental impact on local businesses and many residents who live in the more remote rural areas.
"Just like similar issues recently faced by Comrie, these decisions are not taken on the basis of full consultation with the local community and they remove yet another crucial facility from a town."
Lloyds Banking Group has confirmed 31 Lloyds, 10 Halifax and 15 Bank of Scotland branches will be shut across the UK and says fewer customer choose to bank in store.
It said staff numbers will be cut by "under 80" as many employees are to be redeployed in other branches.
A spokesperson said: "We are committed to having the largest branch network in the UK and, in addition to our branches, all our customers can also use the Post Office to access their banking locally, alongside our mobile branches which visit many rural communities.
"This is in response to changing customer behaviours and the reduced number of transactions being made in branches."