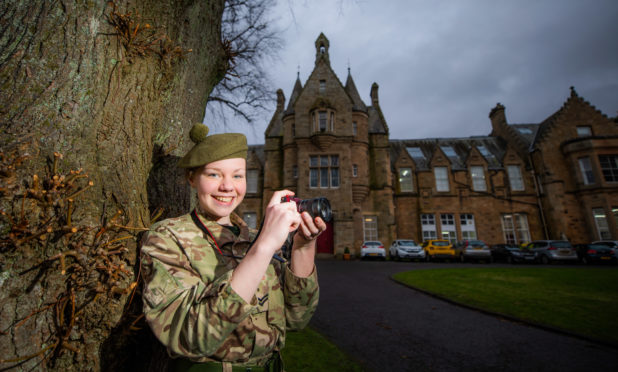 A Perthshire teenager has become the first Scot to place in a national army photography competition.
Arwen Moses, 15, of Crieff was second in the Cadet Life category of the annual Army Photographic Competition with one of her submissions.
The Morrison's Academy pupil began taking photographs regularly five years ago when she found an old camera in a cupboard.
Arwen said she was surprised to have placed so highly in the competition.
She said: "I took the photos one Friday evening with my best friend Melissa and didn't expect to hear anything back.
"When I submitted my work and got a reply saying that I had been nominated for an award, I was so happy. I couldn't believe it."
On beginning her photography venture, Arwen mainly focused on landscapes, sunsets, and flowers and plants before including human subjects in her work.
She added she initially felt unsure about whether to share her hobby with the wider world.
She said: "It is one thing to achieve the shots you went out to achieve and keep them private and another to put your work out there to be seen and possibly judged.
"I have always been nervous about other people seeing my work and so, when I saw on my news feed that the British Army was having a photography competition, I knew I wanted to enter but knew my hobby could not stay secret for much longer.
"If I didn't have the support from my wonderful parents, I probably would have kept this hobby a secret.
"My mum especially is always so complimentary of my work that is why I sent it in- I'm so lucky to have such amazing people in my life."
Arwen has been a member of Morrison's Academy's Combined Cadet Force for around two and a half years.
During this time, she has been promoted through the ranks to a Corporal.
She wanted her photography submissions to reflect the stages of a typical patrol and the transition from defensive to attacking.
She said: "I wanted to show the excitement of being on a patrol.
"There is an adrenaline rush as you transition from moving tactically to quickly launching into section attacks on the enemy."