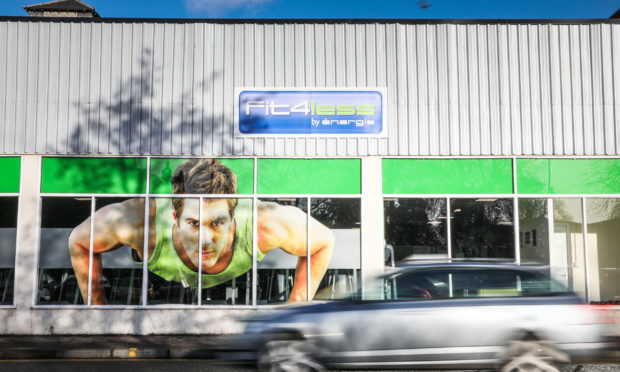 A successful Fair City business could be demolished against the will of management to make way for a dozen flats in the city centre.
Blueprints have been submitted to Perth and Kinross Council to flatten the city's busy Fit4less gym, along with a vacant warehouse to the rear of the premises, to make way for the homes.
The Canal Street gym, which compromises of a main gym area with cardio and weights machines, a studio for classes and a free weights room to the rear, would be razed and replaced with 12 apartments, complete with private garden, if the plans are approved.
The gym has more than 1,200 members, employs eight members of staff and supports a range of community groups such as their inclusion disability group and a host of local junior and amateur football clubs.
Management at the gym say they would be gutted if their presence in the city came to an end and are urging their members to flood the council's website with objections to help save their home.
A spokesperson for Fit4less said: "Naturally, we are deeply concerned to learn about the landlord's proposal to convert the gym into flats.
"For the past seven years, we have built a thriving community-focused facility that gives over 1,200 members a friendly place to exercise as well as socialise.
"Fit4less has been instrumental in helping local disability groups inside and outside of the gym with our Fit4all Inclusion group exercise, plus we're sponsors for several local sports teams and regularly work with schools to encourage health and wellbeing.
"Should the application be approved, not only would our team of eight staff lose their jobs and the 1,200 members lose their place of fitness, our community will lose out.
"For the immediate, we are open, and we will do everything we can to keep Fit4less, Perth open for the long-term. We are asking our members for their support by objecting to the application through the council's website.
"We will work closely with the landlord over the coming weeks and ensure our members fully informed in advance of any decision. We would like to thank them for their ongoing support and loyalty."
The development has been branded Frew House in plans, named after the former car garage which occupied the site in the 20th century.
Plans had been submitted last year to convert the vacant warehouse space above the gym into six flats.
The gym had been set for a new cedar wood and brick cladding, signs and lighting, with a gated entrance to the flats would be accessed to the right of the gym's front door.
However, despite the initial plans which would spare the gym being shown the green light in June, the private developer of the premises now plans to demolish the entire premises and build the flats from scratch, doubling the capacity.
A decision is expected to be taken in due course by planners.