Forecasters say "heavy snow" will follow Storm Ciara in Tayside as they warned of further threats in the coming days.
Gusts of up to 80mph are expected to sweep into the local area from Saturday into Sunday as the weather front moves in from the Atlantic.
The whole of the UK will be placed under a Met Office yellow warning for wind as Storm Ciara arrives, with the worst of the conditions expected during the day on Sunday.
It will be the third named storm of the season – and is expected to be the biggest.
On Thursday morning the Met Office issued two new yellow weather warnings with one lasting the whole of Saturday in place for all of Scotland.
It is being followed by a wind and snow warning which will be in place from Monday into Tuesday. Perth, most of Perthshire and parts of western Fife are expected to be hit by the wintry weather.
The snowfall will combine with strong winds to create "blizzard conditions" on higher ground. Thunder and lightning is also possible.
The Met Office warning states: "Frequent and heavy snow showers will affect the region throughout Monday and at first on Tuesday.
"Snow showers will mainly be over high ground. Slight accumulations of 1-3 cm above 150m and 5-10cm above 300m.
"Strong winds, gusting 50-60 mph, will lead to blizzard conditions at times and considerable drifting of lying snow.
"Frequent lightning strikes are also possible, perhaps leading to interruptions to power supplies."
Locals braced as forecasters warn Tayside and Fife will be battered by Storm Ciara
Widespread winds of 50mph-60mph are forecast from Saturday, with gusts of between 70mph-80mph likely in coastal regions and hilltops.
Locals have been warned to stay away from the coast and to expect widespread travel disruption which will affect roads, bridges, trains and planes. Downed trees could also lead to power outages in some areas.
Storm Ciara is being caused by a clash of temperatures over the Atlantic in North America.
Freezing air from the north combining with tropical conditions from the south has resulted in a 30C temperature difference, creating a powerful jet stream.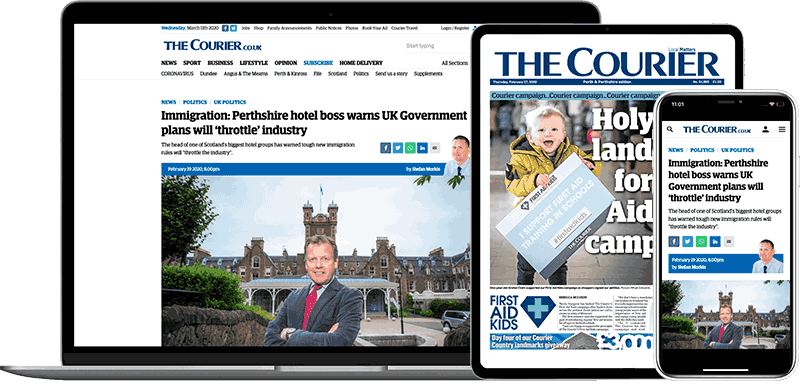 Help support quality local journalism … become a digital subscriber to The Courier
For as little as £5.99 a month you can access all of our content, including Premium articles.
Subscribe