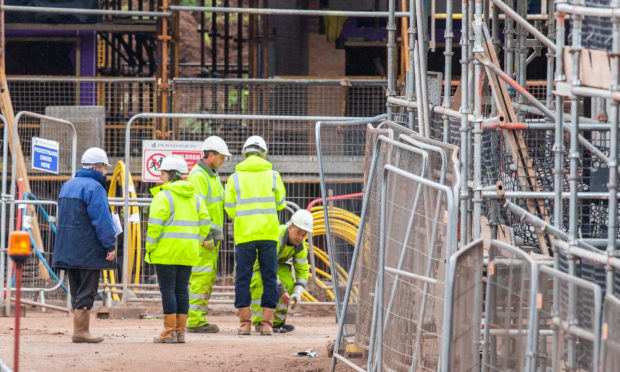 Housing developers will meet Kinross-shire residents on Monday night to discuss the next phase of a contentious housing development.
Bosses from Persimmon Homes will discuss their plans for the second tranche of properties at the divisive Lathro Farm development between Kinross and Milnathort.
The second phase of the development, which would bring another 195 houses along with infrastructure and an open public space, has prompted more than 150 local residents to write letters of objection to Perth and Kinross Council planners.
In initial blueprints sent to the local authority, only 112 homes were to be built in the second and final phase.
Kinross and Portmoak Community Councils and Kinross-shire Civic Trust are among those raising concerns.
Fears have been raised about the adequacy of the nearby Gallowhill Road as a main artery. Locals doubt whether the busy street with narrow pavements could handle the significant influx of traffic that comes with a development.
A lack of space at nearby schools and GP surgeries have also been highlighted as potential areas of concern.
Letters of objection poured in last summer with many questioning the level of construction, compared to guidelines set out in Perth and Kinross Council's local development plan.
Now, as a requirement enforced by the Scottish Government, Persimmon must meet local residents to present their plans for the sizeable housing scheme.
A community engagement update event will be held in the ICT room at Kinross High School on Monday. Residents will be able to quiz to project's leaders from 5pm to 7pm.
The construction of around 300 homes at Lathro Farm has generated a catalogue of complaints from nearby residents and homeowners.
Persimmon has been accused of a number of planning infringements since construction began, including working on Sundays and leaving plant machinery at the site switched on overnight.
The firm was found to have built streets without full permission and failed to fully fireproof some roofs at houses at the site.
A spokesperson said: "Persimmon Homes North Scotland would like to invite the local community to a presentation and discussion on our updated proposals for Lathro Farm Phase Two.
"Anyone unable to attend or wanting more time to explore our proposals can review our re-submission online."