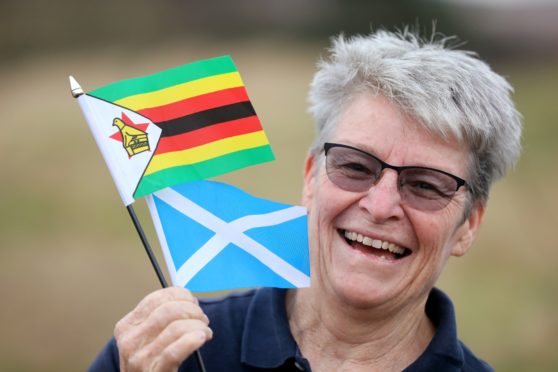 Tayside generosity is helping rebuild a cyclone-ravaged Zimbabwean community in the latest stage of a strong bond forged by a former Perthshire schoolgirl.
Ex-Scottish hockey internationalist Jane High led the founding of Peza Trust Scotland, having been a PE teacher in the African country during the 1970s, settling in the village of Chimanimani near the nation's border with Mozambique.
Since 2014, Jane's cousin, Frances Fleming has spearheaded Scottish fundraising for the small charity, including sending out football kit to youngsters in the impoverished area.
Zimbabwean-born Jane, who spent her senior school years at Blairgowrie High, made a flying visit back to Scotland to thank stalwart supporters of the charity at an event in Strathmore Golf Centre, near Alyth, telling them their help is more important than ever following last year's devastating natural disaster.
In March, Cyclone Idai wreaked havoc in the village, killing more than 300 people.
The deaths were among a toll of more than 1,300 victims in a humanitarian crisis stretching across the path of the cyclone in Mozambique, Zimbabwe and Malawi.
One of Peza Trust's success stories survived the tragedy and Jane revealed the lifesaving support the Scottish connection delivered.
"Through football and golf I teach life skills, run a mountain guide training programme and the Scottish sponsorship enables a number of the youngsters to attend school.
"Strathmore Golf Centre have been very active supporters and, due to their help, we have a young golfer called Trust who is doing very well.
"When the cyclone hit, Trust was lucky to survive and thanks to Strathmore he was airlifted to a hospital for surgery."
Frances, from Alyth, said: "Trust has recovered and is back playing but unfortunately he lost his home and is still living in a tented village.
"The cyclone was really devastating for the area and they have had to pick themselves up and try to get their communities back again.
"We also lost one or two of the youngsters which the charity helps, so it really was desperately sad for everyone involved."
Frances continued: "Peza Trust is not a big charity, but the important thing is that the sponsors and everyone who supports our fundraising knows that all the money goes to help the kids.
"I have been out to Zimbabwe several times and will be going there again quite soon to see how our support is continuing to help the people living there."
Peza Trust's Tayside support has already seen young footballers battling out a mini-league in the colours of the area's clubs.
Senior outfits including St Johnstone, Forfar, Dundee and community outfits in Angus and Perthshire have all donated kit to help the Matsetso Stars initiative.
Anyone wishing to support Peza Trust can contact Frances by email at frances.fleming@tiscali.co.uk