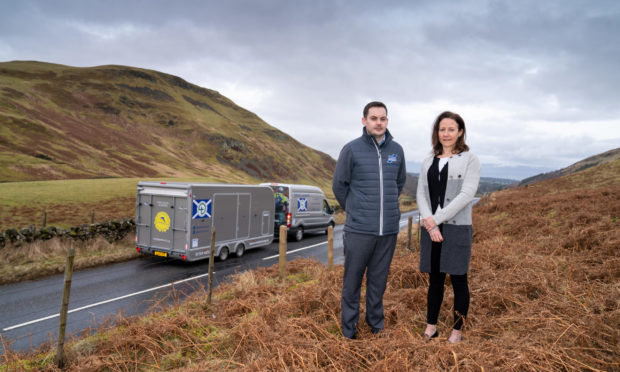 A Perthshire-based charity has taken its lifesaving masterclasses on the road this year following investment from a local firm.
The Sandpiper Trust has been training people to save lives by supporting emergency medical training in remote communities across Scotland.
The Aberuthven-based charity was founded after the death of Scottish-born 14-year-old Sandy Dickson, in an accident.
His family realised the difficulties faced by the ambulance service in accessing remote and isolated areas and made it their mission to equip specially-trained doctors, nurses and paramedics, so they could be ready to intervene in an emergency before an ambulance arrives.
The charity, which was founded almost 20 years ago, works in conjunction with BASICS (British Association of Immediate Care) Scotland and the Scottish Ambulance Service (SAS) to equip doctors, nurses and paramedics with life-saving medical supplies, including portable defibrillators, in specially designed Sandpiper Bags.
When trained, the volunteers log onto the Scottish Ambulance Service system to be dispatched by call handlers to 999 calls when necessary and are frequently the first on the scene.
The Stirling Trailer Centre has supplied the charity with a new Transporta trailer from Ifor Williams Trailers to move its "crashed car" demonstration vehicle across remote areas of Scotland for realistic medical training.
There are more than 200 active responders who volunteer for the service, with another 15 currently in the process of being trained and equipped.
So far, the roving classroom has travelled to Dumfries, Aberdeen, Ullapool, Tiree, Skye and Nairn in its first month. This year, it will be heading to Arran, Orkney, Shetland, Huntly, St Andrews, Western Isles, Lochgilphead, Campbeltown and Invergordon.
Lorna Duff, general manager of The Sandpiper Trust, said: "It can take a very long time to reach some areas of rural Scotland and so we have local responders, all clinically trained doctors, nurses or paramedics, who attend BASICS training before receiving Sandpiper Trust equipment.
"The training is not first aid – it's for 999 call outs only. The equipment we give responders now costs in the region of £3,000 per person and includes a portable defibrillator.
"It's a significant cost and The Sandpiper Trust replaces any equipment that's used on a job. We do not get any form of government or centralised funding, so we rely on fundraising.
"These volunteers really are doing an amazing job. They are all full-time clinicians already with the NHS or SAS and are responding as a volunteer. Our responders have saved many lives and improved patient outcomes by getting there quickly – it's an invaluable service."