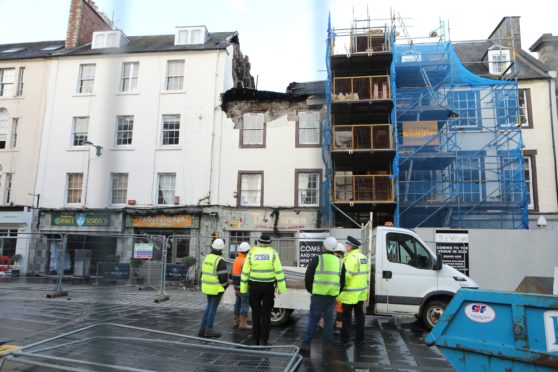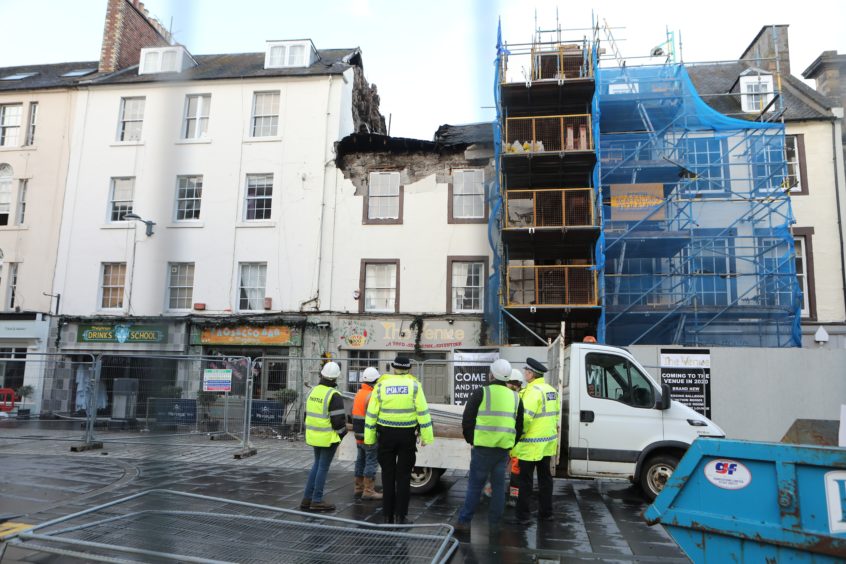 Perth residents have been evacuated from their homes amid safety concerns after the roof of city centre pub collapsed on Saturday night.
Three people have been moved out of their flats on St John Street after the chimney breast of a neighbouring building fell onto the The Venue causing the building's roof to cave in.
The chimney smashed into the flat above the bar. Three people were hurt and more than 80 escorted from the bar after huge chunks of masonry crashed to the street below.
Urgent safety checks are being carried out to asses the structural damage, although the council would not confirm whether a wider survey of city centre buildings is planned.
A spokesperson for Perth and Kinross Council said: "Officials from the council's duty emergency team have been working with Police Scotland, Scottish Fire and Rescue Service across the weekend.
"A full structural inspection of the building is under way. The site is presently secured by an inner and outer cordon of barriers and the street is now secure.
"Three individuals were accommodated at the Salutation Hotel over the weekend."
The Courier asked the council if a wider survey would be undertaken but a spokesman said he was unable to answer that question.
Businesses that were barricaded off over the weekend can now be accessed on St John Street but there is still no thoroughfare between High Street and South Street as engineers continue their survey work.
The Courier understands the displaced residents are still living at the hotel as crews continue to work on the St John Street site.
The Venue owner, Frank Burgerseed, said it was lucky that no-one was killed during the incident.
Mr Burgerseed said: "Two people nearly lost their lives but it missed them.
"They were standing outside having a smoke but because of the weather they were inside the doorway.
"If had been 15 minutes later then our door staff would have been standing there and if had been a couple of hours later then hundreds of people could have been inside.
"All in all, everyone has been very lucky."
The condition of the three people injured during the incident is still unknown but no-one is believed to have been seriously harmed.