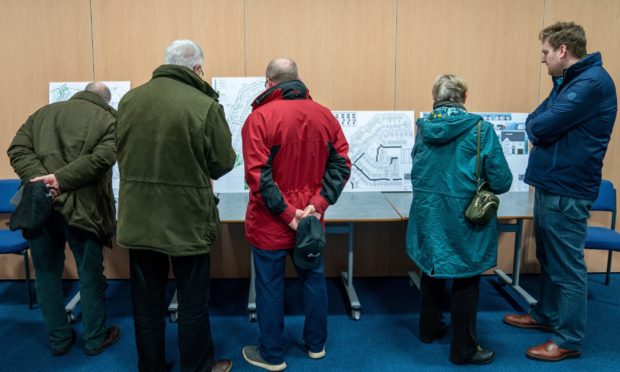 Persimmon Homes' decision to removef 26 homes from a contentious housing development on the edge of Kinross is a step in the right direction but not enough, according to a local councillor.
Representatives of the housebuilding firm met with concerned residents at Kinross High School on Monday night to discuss their plans for phase two at Lathro Farm.
The major housing development between Kinross and Milnathort has been plagued with problems throughout its first phase, which has now almost finished.
Persimmon has been accused of construction transgressions since work began at the site, including working on Sundays and leaving plant machinery at the site running overnight.
The firm was found to have built streets without full permission and failed to fully fireproof some roofs at houses at the site.
Persimmon had proposed to build 112 homes in phase two, but with 203 homes already completed or nearing completion in phase one, the increased second phase would push the number of homes proposed for the wider site to 372 in total and would mean almost 25% more than the initially approved plans.
Management say they have learned from their experience building the first tranche of homes and have made a string of changes, the most costly of which involves reducing the density from 195 to 169 houses.
Speaking at the consultation, a Persimmon spokesperson said: "We've met with residents in response to the feedback we've received.
"One of the key issues raised what the external finishes in phase one. The design vernacular was primarily brick and the locals didn't like that. Now the exteriors are more in keeping with the area.
"Parking caused a lot of concern. The second phase is in compliance with guidelines and has visitor parking throughout.
"House numbers have been the key factor. We had 195 but we've reduced that to 169 to lower the density."
The firm will hold another consultation in the coming weeks, but is targeting a decision from Perth and Kinross Council's planning committee in either April or May.
Kinross-shire councillor Callum Purves believes this is progress but not enough.
The Conservative said: "It's great to see that Persimmon is listening to some concerns.
"The number of houses is still significantly in excess of the number in the indicative plans and there are still worries over school places, the GP surgery and access at Gallowhill Road.
"The reduced design is better but it doesn't negate the fact that there are still issued to be addressed."