VIDEO: Perth partygoers wear hard hats to mark bar reopening six days after building collapse
Staff at The Venue put on a party with a difference on Friday night as they reopened to raise funds for their upstairs neighbour who lost her flat in last weekend's storm.
A chimney stack brought down Caroline Macdonald's flat and caused major structural damage to the front of The Venue.
But after a gargantuan team effort, the bar reopened at 7pm, welcoming in revellers in hard hats and hi-viz waistcoats as they looked to raise money for Caroline who was left with only the clothes she was wearing on Saturday and her handbag.
'I thought I was trapped': Woman relives 'surreal' moment chimney fell through her roof as Perth bar prepares to reopen
Despite having lost around 60 seats, Venue teams have been working 16 hours a day to make sure Friday night was business as usual.
The front entrance and Prosecco Bar were destroyed by falling masonry and the pedestrianised St John Street in front has been sealed off.
Video inside The Venue ahead of Friday's reopening is above this article
The firm plan on installing an armoured entrance once the rubble has been cleared so things can go back to normal, but for now, The Gin Bar to the rear, the seating area at Oliphant's Vennel and upstairs remain fully intact.
The Venue's Scott Matthews said: "Since we've been given permission from building control to open, we've had to redesign one of our bars where you usually get access to the building.
"We've had to make it into an L-shape and that's been done in 24 hours. We've also had to build a new entrance at the back. Again, that was done within hours of us finding out the building was safe.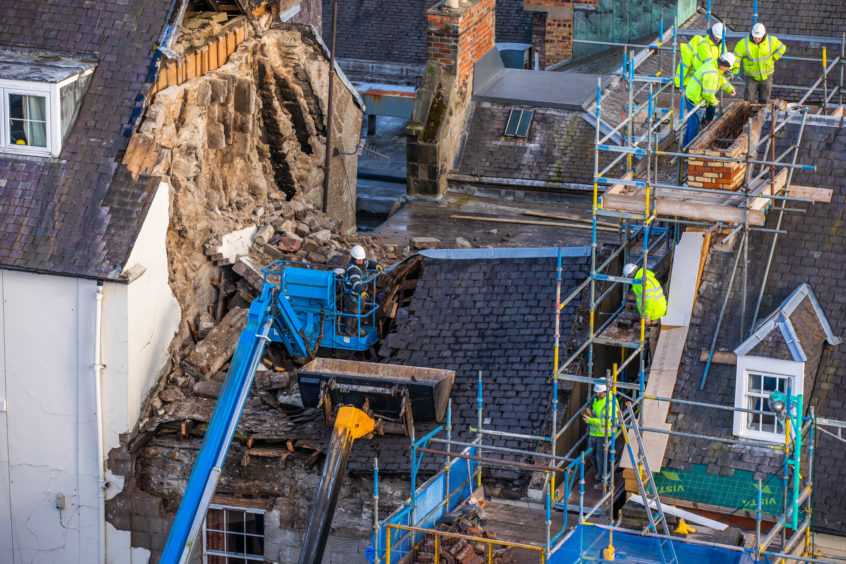 "It's been a massive team effort and we'd like to thank everybody that's got involved. There's even been people who don't work for us.
"We're doing a fundraiser for one of the residents who was directly affected. She's going to come down and hopefully we're going to raise a lot of money to help her get back on her feet."
Meanwhile, council bosses say they will not be carrying out any investigations into other neighbouring properties.
Council chiefs say that it is up to residents to ensure their chimneys are steadfast enough to endure Storm Dennis this weekend.
A Perth and Kinross Council spokesperson said: "We have no plans to carry out specific inspections on the chimney stacks within St John Street however we would encourage all property owners within Perth and Kinross, to carry out adequate surveys and maintenance work to safeguard their properties and the public.
"Building Standards regularly carry out superficial inspections of properties and will take enforcement action where necessary, but the ultimate responsibility lies with the building owners."
John Swinney MSP said: "Following the recent chimney collapse, and the very real threat to life it caused, residents will be justifiably concerned about the state of chimney stacks on St John Street.
"Accordingly, any actions that Perth and Kinross Council could take to provide re-assurance to residents and business owners would be very welcome."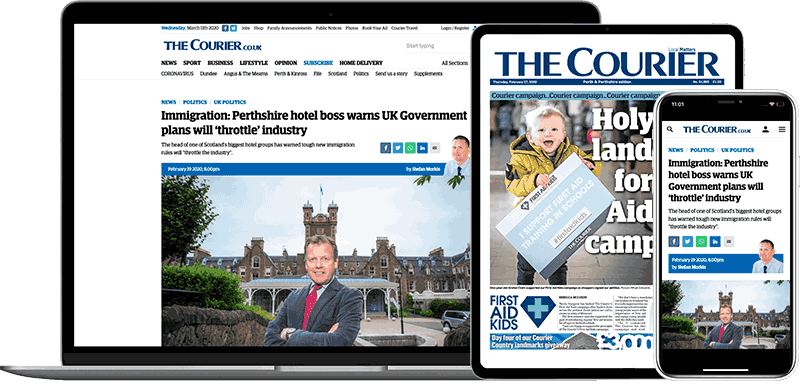 Help support quality local journalism … become a digital subscriber to The Courier
For as little as £5.99 a month you can access all of our content, including Premium articles.
Subscribe