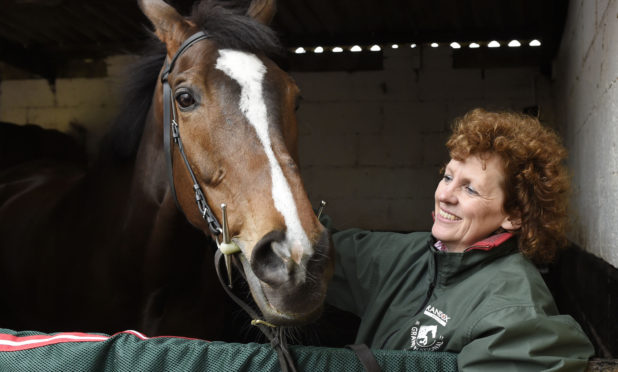 Perth's Grand National champion One For Arthur is being checked by cardiac specialists after vets detected an irregular heartbeat.
Concerns were raised for the famous thoroughbred after a disappointing race performance at the weekend.
Trainer Lucinda Russell, based at Milnathort, said the 2017 Grand National winner was found to have a fibrillating heart but he is expected to make a swift recovery.
"It was desperate to watch One For Arthur yesterday at Haydock as he made heavy weather of his race," she wrote on her website.
"We were despondent in the unsaddling enclosure, despite seeing Arthur trot up sound."
Lager firm raises One for Arthur at Milnathort pub after local horse's Grand National win
Vets were asked to give him a check-up and they discovered he was in artrial fibrillation with an irregular heartbeat.
Lucinda said: "This would explain his running, not able to gallop with any power, and not a case of him being reluctant.
"By the time Arthur was ready for home, his heart rate had dropped and was more regular and we are delighted to be able to report that it is normal this morning."
She added: "Obviously, we will have him checked fully. We are fortunate that our horses are part of a cardiac study at Edinburgh University run by renowned specialist Dr John Keen, so we have baseline heart ECGs for Arthur."
Lucinda said owners Belinda McClung and Deborah Thomson had been "exceptionally supportive through the past 24 hours".
She added: "Their greatest desire is to do the right thing for Arthur in the short term and long term. He is our hero and our number one priority."
One For Arthur was only the second Scottish-trained racehorse to win the Grand National.
His win was described as a "disaster" for local bookies since so many people in the area had placed a bet on him.
Lucinda's partner Peter Scudamore told The Guardian: "We've had this with other horses, it's not a unique case.
"Big River had it at Haydock (in November 2017) and then he was running at Warwick two weeks into January.
"But that's the best scenario. In the worst case scenario, he would need treatment to push his heart back into rhythm."