Perth woman whose flat was destroyed by chimney stack in Storm Ciara 'will never forget' generosity of neighbours
A Perth woman who lost all of her belongings when a chimney stack plunged through her flat has expressed her gratitude to everyone who rallied round to help put a roof over her head.
Caroline Macdonald said she would never forget the kindness she had been shown.
She was speaking after a party with a twist at the nightspot beneath her home raised more than £700 to help her rebuild her life.
Video of the reopening party is above this article 
Caroline was in the shower when her flat above the bar was trashed in Storm Ciara.
The chimney stack wrecked her living room and a significant portion of the Venue below, including the main entrance and Prosecco Bar.
Staff spent last week working from 8am to midnight to ensure the bar could reopen as soon as possible and managed to do so on Friday night.
The team's first event was a hard hats and hi-viz party in aid of Caroline, who had fled her home with nothing except the clothes she was wearing and her handbag.
She said: "It's been a manic week and I've not slept, except the odd couple of hours.
"I can't believe how the community has rallied. I've been carrying my suitcase around the town and the businesses on St John Street have let me leave stuff with them. I've been so lucky and they've been such good neighbours."
She said she could not thank the Venue's Frank Burger-Seed and Scott Matthews enough.
"They've been so generous. These are things that I'll never forget," she added.
Caroline has been unable to go back to her flat but is hoping she may be able to salvage some of her possessions.
"I would love to think that I could get back in, but I've no idea," she added.
"I've been put up in Dunning by one of my friends as the council flat I've been given in the meantime is unfurnished.
"I'm living from day to day at the moment and my time is being spent in offices sorting things out."
A spokesperson for the Venue said: "We would like to thank all who attended the Venue Resurrection party on Friday and donated toward the fundraiser for Caroline, our neighbour.
"In total we raised a whopping £724.33. Caroline has asked us to thank everyone involved and all who donated. She is overwhelmed to now have some funds to help her set up a new home and graciously grateful at the generosity.
"We've found it so lovely to see a community come together including the council, emergency services, builders and members of the public who all put in a massive team effort to get our doors open again which allowed us to organise the fundraiser. We hope to see all our regular customers and new customers soon."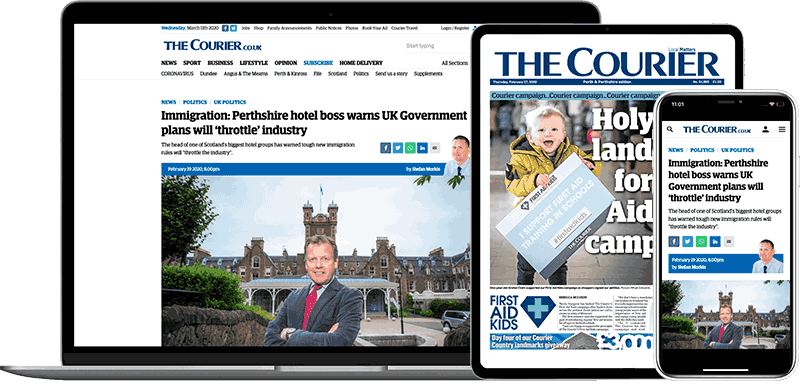 Help support quality local journalism … become a digital subscriber to The Courier
For as little as £5.99 a month you can access all of our content, including Premium articles.
Subscribe