Snow factory boosts ski season at Glenshee as snowsports fans return in droves
Bosses at Scotland's biggest ski resort say their winter season has been boosted by a new man-made snow machine.
Skiers returned to the slopes at Glenshee this week following a drawn out spell of stormy weather.
Dennis and Ciara brought heavy snow to Scotland's snowsports centres, but also ferocious winds and hazardous driving conditions.
When the winds finally died down, winter sports lovers came back in their droves to the Glenshee Ski Centre on the Perthshire/Aberdeenshire border.
The resort was able to open 10 runs on Wednesday, the third day in a row that the site has been able to open for skiers, snowboarders and sledgers.
Managing director David Farquharson said he has been able to extend the season, thanks to a recently installed snow-making machine.
"In one way it has been a bit of a late start for us," he said. "But on the other hand, our Snowfactory has allowed us to stay open since December 17.
"Although it only covers two of the beginner slopes, it has kept us going throughout the Christmas period.
VIDEO: Glenshee Ski Centre packed as snowfall leads to bumper turnout of winter sports lovers
"It has meant that since December 17, we've only had three days where we've not had skiing."
Mr Farquharson admitted that the machine was no substitute for the real thing.
"It keeps the smaller runs going, which means we can accommodate school parties, but for everything else we still need the right conditions," he added.
"Given that its the half-term holidays and we've only really got going, it has been rather hectic. But in terms of numbers, it has been a fairly typical half-term. It's certainly busy, which is great to see.
"The forecast for the weekend is looking good though. After a short mild spell, we're expecting it will remain cold for the rest of the week.
Glenshee was not the only Scottish ski resort to open on Wednesday with the Lecht, Glencoe, Nevis Range and Cairngorm Mountain also welcoming visitors.
However both Cairngorm and Glencoe were forced to call off snowsports activities in the early afternoon due to strong winds.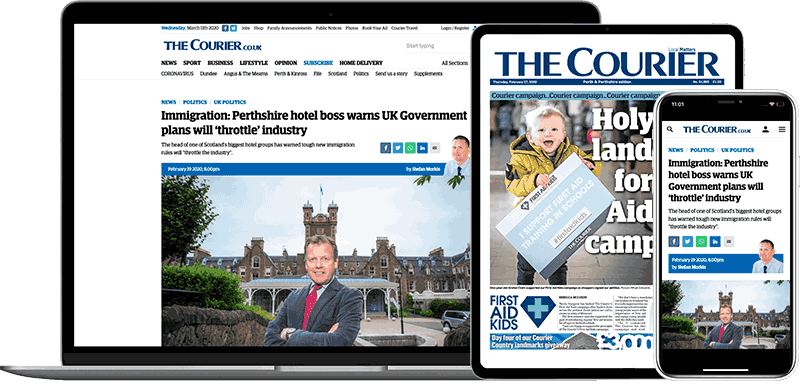 Help support quality local journalism … become a digital subscriber to The Courier
For as little as £5.99 a month you can access all of our content, including Premium articles.
Subscribe