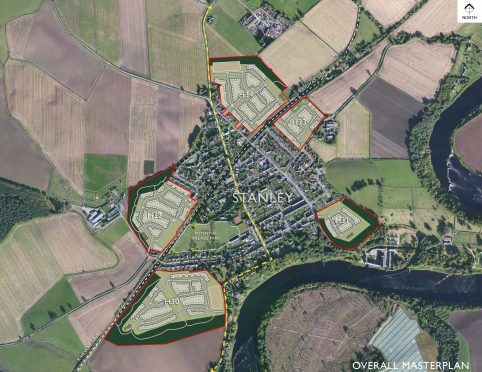 A decision over a controversial planning application to build a major housing development in Stanley has been deferred due to road safety concerns.
A row broke out between Perth and Kinross Council's planning department and elected members at a committee meeting on Wednesday over the bid to build 187 homes in the Perthshire town.
Local organisations, including the community council and Stanley Development Trust, had objected to the project because of fears the development would create an accident black spot at a T junction onto the busy B9099.
However the application had been submitted over two stages with the junction put forward as a separate plan.
The majority of objections were lodged against the proposal for the main masterplan of the site.
Planning officials said the junction could be approved under delegated powers without coming before committee as the separate planning application for the road had received fewer than six comments.
The report on the application also contained several errors, mistaking the B9099 for the A93 – nearly eight miles away.
Speaking at the meeting, independent councillor Callum Purves said: "It's disingenuous to say that there's been no comments on that.
"The fact there are two separate applications then that has caused some confusion.
"There may have been a feeling when people were objecting to this they were also objecting to the access (junction)."
He added: "Just because something can be done through delegated powers doesn't mean it should be."
Local Conservative councillor Ian James said: "It's a little disappointing that the issue which is the cause of main concern that it can just be passed by delegated powers.
"I think that road is dangerous."
Numerous councillors spoke out against officers' decision to bring the papers to committee without the junction.
Liberal Democrat councillor Willie Wilson said he believed it had been "very badly handled".
A motion to defer the application to a later date when the junction and the housing plans could come before committee at the same time was approved by eight votes to three.
Speaking after the application was deferred, Stanley and District Community Council chairman Werner Reiche said: "We were not told that we had to object to two different planning applications.
"We were totally unaware that we were supposed to object to two but that seems to have been rectified now.
"The planning committee have decided that both applications should be seen at once."
Local SNP councillor Grant Laing said the committee had taken a "sensible" decision .