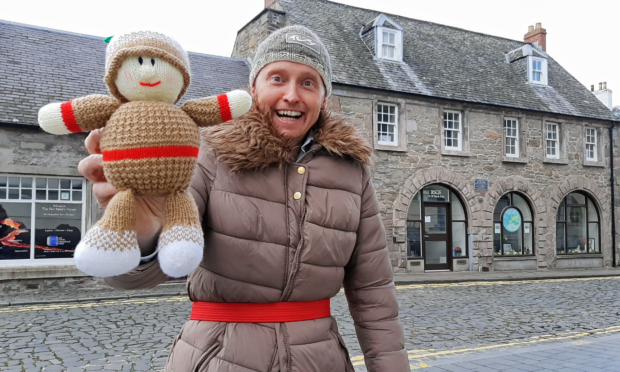 At a time when light relief is definitely needed amid the serious business of the coronavirus outbreak, the Perth-based Royal Scottish Geographical Society has come up with a novel idea to 'Knit the RSGS'.
The idea is simple – that anyone can submit something to the educational charity that is knitted, crocheted or sewed, and that has something to do with the society.
Items could be anything from the Kon-Tiki boat, to the Apollo 11 spacecraft, to Greta Thunberg, to the RSGS offices or even a member of staff. The choice is theirs!
Not only will this give people something creative to do at home, but the RSGS hopes to run an exhibition in Perth when things have returned to normal with the best entries.
The hope is to also run a gallery of the best entrants in the RSGS' quarterly magazine The Geographer, and perhaps even feature them in The Courier!
RSGS chief executive Mike Robinson said that the idea was "absolutely a response" to the coronavirus situation.
"We were trying to look at ways on which we could help," he explained.
"One of the things we are conscious of is that a lot of people are going to be stuck at home – almost looking for some light-hearted things to focus on instead of all this awfulness.
"We thought it would be a really nice thing to do to set people an exercise – a competition – to partly take the mind of things.
"We thought it could be anything to do with RSGS which is pretty open ended – it could be anything or anybody associated with the organisation over the last 130 years.
"There's plenty of scope. One of the best images we have internally actually is somebody who made the Fair Maid's House out of icing. It's honestly fabulous. It's superb.
"But the main thing is it would be really nice to get people doing something positive and funny that would help them. When I say the exhibition will feature the best, I do mean best. But I also mean funniest as well!"
Mr Robinson said he hoped the prize competition would fuel the creative imagination whilst being a lot of fun with everything from oceans, explorers, scientists, astronauts and everything in-between to inspire.
A closing date has been set for August 14, but if this isn't practical because of the ongoing coronavirus situation, it will be pushed back.
Mr Robinson has asked that in the first instance, entrants send a photograph of their completed works to the RSGS via enquiries@rsgs.org
It's hoped the exhibition of knitted items can then be staged in October.
The coronavirus outbreak has forced the RSGS to close down its public talks programme. However, staff are continuing to work behind the scenes with policy work moved to virtual meetings.