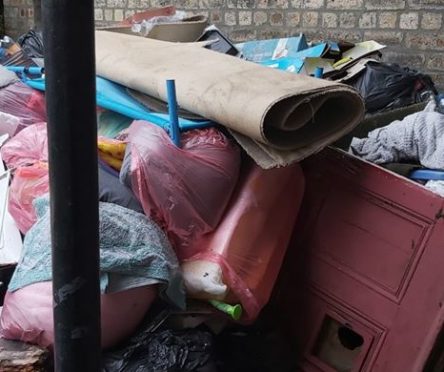 A Perth man has spoken of his health and safety fears over a pile of rubbish left outside his flat.
Jarek Baranek of Inchaffray Street said the growing pile of rubbish has already attracted rats to the area.
He fears it could catch fire and is concerned about the health risk but Perth and Kinross Council has said coronavirus has forced it to prioritise "essential" services.
Mr Baranek says he and other residents in the block of flats have contacted his landlord and the police about the issue.
He said: "My landlord claimed that this pile of garbage would be cleaned by the council but it didn't happen.
"I have lived here for six months and this pile of rubbish is growing. We, as residents of this property, want it to be clean.
"There are already rats and the risk of fire and it is stinking. We are afraid that someone will set fire to it."
He said the rubbish is coming from residents in two of the flats in the block.
Perth and Kinross Council said the pandemic means they will focus only on "essential" services, adding: "If the landlord or property owner wish to contact us 01738 476476 regarding the waste, we can advise them of their options for its appropriate disposal."