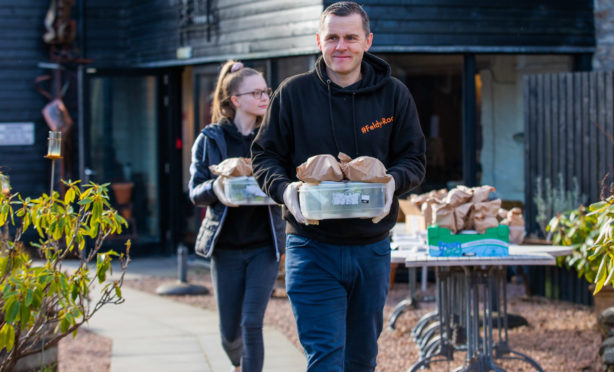 A Scottish football star's campaign to support the most at-risk people in his Highland Perthshire community has raised an army of volunteers and more than £16,000 of crucial funding.
The food delivery service Feldy-Roo was set up for over-70s and other vulnerable people who are self-isolating in Aberfeldy.
A crowdfunding campaign was launched to support the scheme, and organisers initially hoped to make £2,000 to help deliver free hot meals around the community, seven days a week.
Within three days, local families and businesses had donated more than £11,000 via a Gofundme page.
And the group has been awarded a further £5,000 from the Highland Action Partnership.
Feldy-Roo was set up by Elgin City boss Gavin Price who owns of the town's Fountain bar and restaurant. "It has been unbelievably busy," he said. "When we started this just a few days ago we made and delivered 11 meals on the first night.
"Now we are putting out 100 lunches and 100 evening meals each day."
The Fountain, in the heart of the town, is being used as a base of operations but the campaign is being supported by several other businesses including the Watermill Bookshop, Breadalbane Bakery, Three Lemons, Chillies and the Schiehallion Hotel.
Around 30 chefs take turns cooking the meals each night, while a growing team of volunteers deliver the meals wearing gloves and masks, ensuring safe distancing at all time.
Mr Price, who was a striker for Brechin City, Den Haag and St Johnstone, said: "It has been tough going, but we are determined to keep it up and continue to help as many people as we can. Just seeing the smiles on the faces makes it all worth it."
He said: "It has really brought the community together in an amazing way. I've never had to ask for anything, people have been coming up to me to ask what they can do to help."
The pandemic shut down football matches across Scotland just days after Mr Price's league two side won 3-2 over Cowdenbeath.
Local councillor John Duff praised the project. "This is an excellent local initiative," he said. "The whole community – residents, businesses and local organisations – have come together to support the vulnerable members of the area during this very challenging time."
Feldy-Roo can be contacted on 07584 665423 with regular updates posted on Facebook.