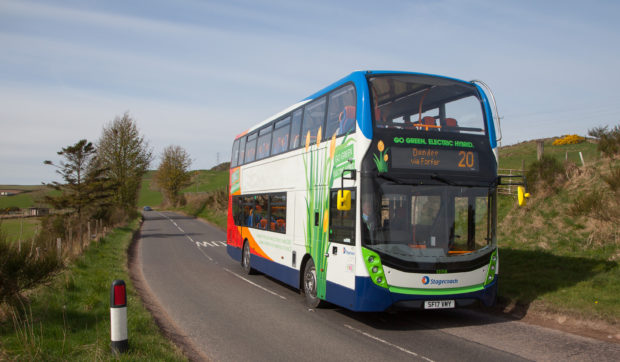 More bus services across Perthshire have been slashed as authorities lock down on public transport.
Yesterday, Perth and Kinross Council announced that routes contracted and served by smaller service providers around Highland Perthshire, Strathearn and Auchterarder have been ceased indefinitely.
Coronavirus: Perthshire bus services cancelled indefinitely as service use plunges during lockdown
Now, transport giant Stagecoach have released a string of amendments and cancelled routes in their own services.
Bosses have scrapped the number 4, 17, 19 56B, 58, 59 and X56 services.
These routes link Perth with Bertha Park, Gleneagles, Stirling, Halbeath Park and Ride, Blairgowrie, Dundee and Edinburgh.
Meanwhile, another 13 service have had their timetables amended.
These include the 1/2, 5/6, 7B, 9, 14, 15/15A, 16/16B, 23, 27, 24/34C, 36, 57/57A, 70, 83 and X7 routes.
Several amended services will temporarily lose their Sunday routes.
The changes will come into effect on April 1.
A Stagecoach spokesperson said: "Following further government advice regarding non-essential travel to combat Covid-19, we've seen a further reduction in passengers using our services. Accordingly, we will make some further changes to the services we offer from Wednesday.
"We understand that travel on our services will still remain vital for many, and we'd like to thank all those who submitted feedback to us. We've done our very best to ensure that critical routes are maintained wherever possible.
"The timetables listed below will begin running on Wednesday 1st April, and although they are temporary, they are in place until further notice.
"Please be assured that the well-established and rigorous cleaning regimes on board our buses will remain in place at all times, and that contactless payment is available on all our vehicles."