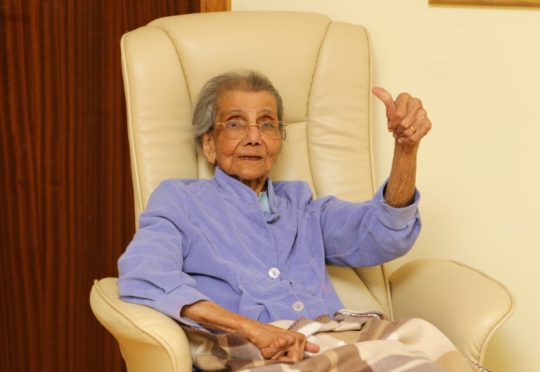 A 98-year-old coronavirus survivor from Perthshire was "humbled" after being singled out in the First Minister's daily press conference, and say her recovery can reinforce the nation's faith in the NHS.
The Courier revealed on Wednesday Daphne Shah had been given the all clear this week after being admitted to Ninewells and testing positive for coronavirus.
In her daily afternoon update, Nicola Sturgeon heaped praise on Daphne, who was born in 1921, for beating the deadly disease.
The First Minister used Daphne's example as a reminder patients admitted to hospital with the illness should not give up hope because are in safe hands.
Ms Sturgeon said: "In these briefings I often, as I have done today, sadly talk about those who have lost their lives from this virus.
"In these really tough times, it's important that we don't lose sight of good news. I want today to pass on my very best wishes to Daphne Shah.
Perthshire woman, 98, back home having stunned doctors by beating coronavirus
"Daphne is 98 years old and she has been receiving treatment for Covid-19 at Ninewells Hospital in Dundee.
"Note that I said she has been receiving treatment. Daphne has now recovered from this virus and she is back at home.
"Her recovery is an inspiring and very welcome good news story but it's also a reminder that even in dark times, there is always light and hope. I'm sure all of us wish Daphne very well."
Daphne's son Wes, who is now caring for the former housewife at their St Madoes home, said: "We are very humbled and thankful for the First Minister's message.
"We haven't quite come to terms yet.
"Daphne is very touched and is thankful not only for acknowledging her success, but the success of the team at Ninewells.
"This message reinforces the faith and confidence we all have in the NHS. It's a deadly thing and to help a 08-year-old recover is remarkable.
"Today, Daphne is improving again. She's had some porridge and she is weak, but she's improving."