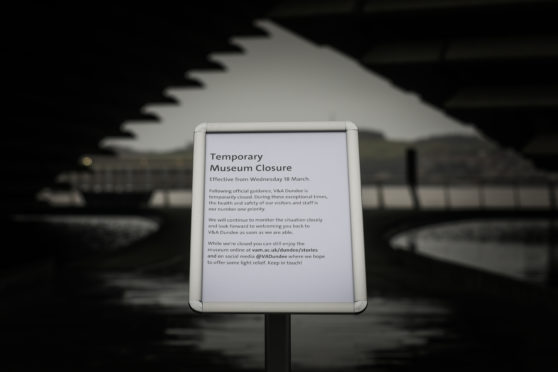 The vast majority of businesses which have been forced to close will not receive compensation as they are not covered against Covid-19, insurance bosses are warning.
Business owners from across Tayside and Fife fear for their future after being told their business disruption cover would not pay out under the current circumstances.
UK insurers believe coronavirus claims will exceed £1 billion. However, businesses could find they are not covered since Covid-19 is not specifically listed in the fine print of their policies.
In their guidelines to customers Axa Insurance have stated: "As coronavirus was unknown until recently there will be very few policies that cover it.
"There are some policies that cover compulsory closure caused by any notifiable diseases, however the vast majority list specifically the diseases they cover."
Perthshire politicians have written to the Association of British Insurers seeking clarity on the situation after being contacted by worried business owners.
Pete Wishart, SNP MP for Perth and North Pertshire, said: " It is clear that people remain deeply unsatisfied with the response from their insurer.
"Businesses take out this sort of cover specifically to protect them in times of crisis and to be told that they will not be covered because this virus is not specifically mentioned in their policy is causing real financial hardship for many.
"If insurers do not think again on this, it is perfectly plausible that they will have fewer businesses to insure going forward."
Depute First Minister, John Swinney, said: "Too many businesses across Perthshire are facing uncertainty due to the stance of some insurance companies.
"It is vital that business owners, who have paid their premiums in good faith, are given the proper support from their insurers."
Alan Mitchell, chief executive of Fife Chamber of Commerce, fears the majority of enterprises will see no compensation from brokers.
Mr Mitchell said: "We understand that the majority of policies won't cover for Covid-19 and that's a significant problem for a lot of businesses.
"We would hope that in these times the business community could look out or each other and if there was a way insurance companies could look out for businesses that would be very welcome.
"But it's one area (of funding) I don't think businesses can rely on unfortunately."
The Federation of Small Businesses Scotland (FSB) said it was aware of the frustration being felt by enterprises.
A spokesperson for FSB said: "We've raised this at the highest level of government .
"Our expectation is that it looks unlikely firms will get a payout but we will continue to press the case."
The ABI believe most businesses will have taken out a standard policy which does not cover against coronavirus and that any new policies business try to take out will not cover them against the disease, since it is now a known factor.
Alastair Ross, head of public policy for Scotland at ABI, said: "Some businesses may have bought pandemic insurance that will pay out for Covid-19 but many will have not.
"It is expected that coronavirus-related claims will be well in excess of £1 billion in the UK spread over at least a dozen different types of insurance, including cover for businesses with the appropriate pandemic cover.
"Insurance can only work if you are insuring unforeseen events, so any Covid-19 exclusions will reflect that this is a known event.
"No country in the world is able to offer widespread pandemic insurance. This can only happen with some form of government support, and once we are through this we need a debate about how this can best be achieved."
Axa Insurance was contacted for comment.