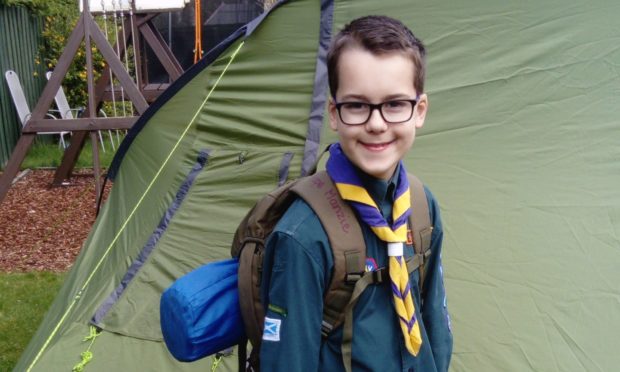 Being cooped up indoors is not enough to deter one young Perth scout from getting his badges.
Viewlands Primary School pupil Lewis Manzie has been earning badges with the 74th Perthshire Scout Group, who usually meet at Moncrieffe Scout Hut in Perth.
Lewis, who is autistic, has been enjoying Scout camps and other Scout work, thanks to a new movement launched by the youth project.
Like Scouts, Cubs and Beavers across the country, Lewis has been taking part in the Camp at Home programme, in which youngsters have been recreating the camp experience from the safety of his garden.
For 11-year-old Lewis, this meant putting up a tent and toasting cotton wool ball "marshmallows" on sticks over a virtual fire.
Youngsters can take photographs of their work towards badges and upload them online, so that they do not miss out.
Lewis said: "We put a tent up in the garden and slept out. It felt like I was actually at a Scout camp.
"I've been working towards my hobbies and crafting badges too. I'm missing it but you still feel like you're at Scouts and it takes your mind off being inside."
Mum Lyn believes this it a great way to keep youngsters distracted from some of the darker news being reported, protecting their mental health.
She added: "Lewis is working on the community impact badge, which is making an action plan and thinking about ways to support or help others in the community.
"It's important for children to look after their mental health just now as they can become fixated on the fact that they're indoors. It helps us as a family all focus on things which aren't negatives too.
"There is even a special badge about the community where you can write an action plan to help others at this time. Lewis is checking up on neighbours for this, and hopes more Cubs, Beavers and Scouts from across Perthshire join him."