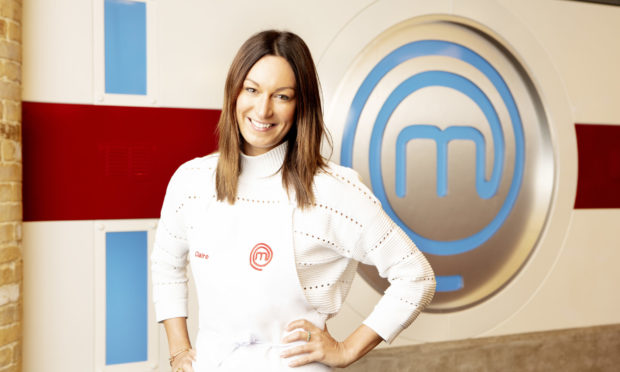 Perthshire Masterchef finalist Claire Fyfe says viewing the series' grand finale with her friends and family on video calls was not how she expected to watch herself compete.
Former Glenalmond College student Claire booked her place in this week's final by stunning a panel of celebrity food critics as well as hosts Gregg Wallace and John Torode in the final five, shown on BBC One last week.
London-based Claire and her family, who still live in Stanley, will be tuning in to the finals week episodes on Wednesday, Thursday and Friday after a "bonkers" journey.
"I've wanted to do MasterChef for some time, and always talked about it," interior designer Claire said.
"I'm single and whilst all my friends are married and having children, I wanted to do something for me.
"My best friend said to go for it and I did. I was honestly shocked when I got through to the semi-final.
"The first time I walked into the kitchen and saw Gregg and John I thought 'oh my God'. They're so inspiring and full of knowledge. The other cooks are fantastic too.
"When I told my mum she just said to please get past the first week. I keep trying my best but I didn't think I'd get this far. I feel very proud."
Claire grew up cooking with her family on trips to Scotland's west coast.
"I find such a joy in creating dishes and cooking for family and friends,.
"It has probably stemmed from cooking with my granny and mum growing up, who are very traditional cooks.
"Everything was made from scratch, using local ingredients. They made wholesome, hearty meals that weren't fancy but were delicious."
Wednesday's episode will take place in Mauritius and Claire says returning to the Indian Ocean island to film was a dream come true.
She said: "When I heard we were going to Mauritius, I thought I was in seventh heaven.
"I've been lucky enough to have been before on holiday and the food culture on island is incredible."
Claire, 35, says the experience has been a "massive curveball" but has just whetted her appetite to work with food in a professional environment of her making.
"I would love to combine my skills and passion in interior design, art, cooking, health and exercise," she revealed.
"The dream would be to have a small boutique hotel in the Balearics, somewhere where I designed everything from scratch, from the rooms to the menu, and could cook in the sunshine and teach Pilates.
"Ibiza and Majorca are two of my favourite places and inspire me and my cooking. I also love making pasta and was lucky enough to live in Florence for four months, where I did several courses."
The first episode this week will be screened on Wednesday at 9pm on BBC One.