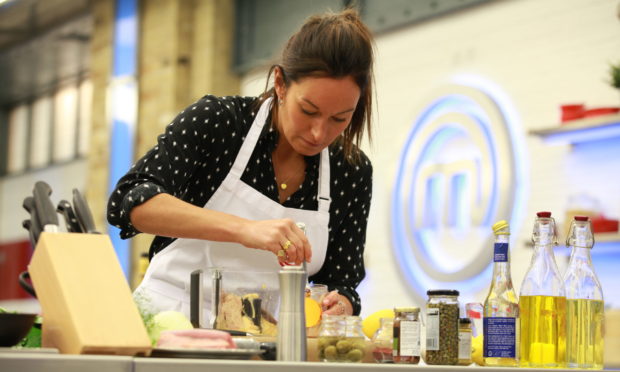 Perthshire Masterchef finalist Claire Fyfe has narrowly missed out on a spot in this year's final three.
After booking a place in the final week, Claire, who originally hails from Stanely, was knocked out of the competition after five gruelling culinary challenges.
In the first task set to the final four, Claire and her fellow contestants headed to Mahebourg in Mauritius to cook lunch for 16 fishermen in the televised competition.
Teaming up in pairs and under the watchful eye of the chairman of the Mauritius Chefs Association, Claire was tasked with filleting and preparing two 12kg dorado to use in fish vindaye.
Claire's efforts, which also included coconut-steamed rice cakes which were later converted into rice pudding, were labelled "brilliant" by the judges.
The next challenge was to prepare palm hearts with crab and a passion fruit Hollandaise sauce for a top Mauritian hotel, which went down a treat with guests and judges alike.
The final test on the Indian Ocean island for Claire was a popular pineapple upside down cake with ice cream and a spiced rum caramel for VIP guests.
But it was on Thursday's episode that Claire's Masterchef journey came to an end.
The four amateur chefs were tasked with cooking alongside Albert Adria, dubbed the world's greatest pastry chef.
Claire was tasked with preparing mango lollipop sorbets and Albert's take on a classic after dinner mint for six pastry experts
Her efforts were lauded by the judges and by Albert, despite requiring skills Claire had never used before.
Former Glenalmond College pupil Claire, 35, said working with the Italian was "an incredible honour".
In the final cook-off, Claire recreated a peach melba, inspired by the desserts given to her as a youngster by her Granny.
However, the "retro" melbas she enjoyed as a child and made of tinned peaches, raspberry sauce and ice cream, were given a fresh look by the interior designer.
Claire poached her own peach, created a raspberry and cream millefeuille, her own brandy snap biscuits and ricotta thyme ice cream in her bid to "elevate" the dessert "to another level."
Judges John Torode and Gregg Wallace said they fell in love with the dish, but only knocked marks off for presentation
Afterwards, Claire said she was left kicking herself, but overall had "a fabulous competition" according to Gregg.
"Of course I'm sad not to make the final three but the Masterchef experience has been the most insanely incredible rollercoaster," she said.
"I've been on warships and in Mauritius and cooked with the best pastry chef in the world. There's so much to take away."