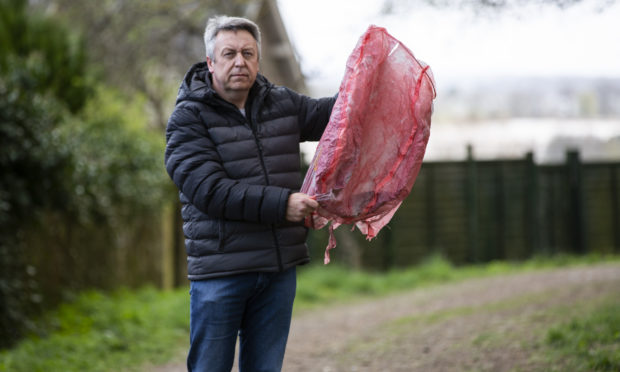 Concerns for the safety of wildlife in Perthshire have sparked renewed calls for bans on Chinese lanterns.
Despite warnings, people up and down the country are launching "fire risk" lanterns into the sky to show their appreciation of NHS workers.
But with serious fears over animal safety at Perthshire farms and nature reserves, pleas have been made for residents to avoid lighting the lanterns and stick to applause.
After finding a charred tangle of plastic and wire in a field near his home, Carse of Gowrie councillor Angus Forbes says he would favour a ban on the lanterns.
The Conservative said: "Whilst Chinese lanterns may look nice as they head off into the night sky, there is a hidden danger with them when they land, which they inevitably will do.
"Firstly, if they land while still lit there is a very real risk of fire. The very nature of them means that they are often let go in rural areas where they could easily set fire to a barn."
He said: "Secondly, they don't just disappear. The remnants will land somewhere and they consist of the candle holder and a metal frame, these can be eaten by farm animals or horses causing untold suffering.
"Finally, there is the environmental issue of the remains of them lying around in the countryside for years. What I find very strange is that people who would never consider chucking rubbish in a field will gladly set these off in the knowledge that they will land in a field and unless someone picks it up and disposes of it, they will lie there for years to come.
"Personally, I would ban them entirely."
Farmyard animals aren't the only creatures at risk. Rangers at Dunkeld's Loch of the Lowes nature reserve also issued a plea last week to stop using the lanterns.
Ospreys currently nesting at the loch are vulnerable to the flames and could see their habitat destroyed if a flaming lantern was to land at the reserve.
A spokesperson for the reserve said: "Please do not buy Chinese lanterns to show your support for NHS staff. They are a fire risk, injure wildlife and it's a form of littering.
"To show your support for NHS staff please stay home, wash your hands and clap at your window this Thursday at 8pm."