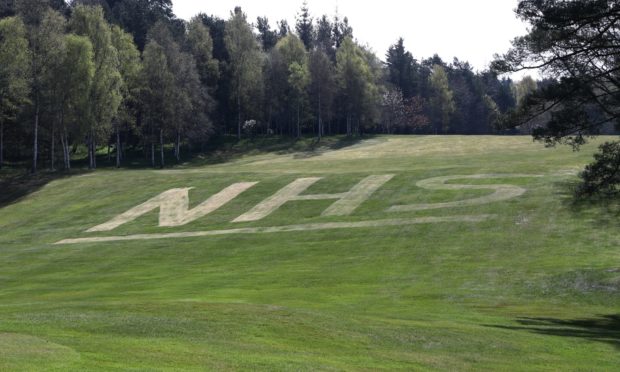 A Perthshire golf club has unveiled an enormous tribute to frontline health workers.
Greenkeepers have carefully cut the letters NHS onto the course at Blairgowrie.
The club said it wanted to do something to show respect to the health service "during this very tough time".
The historic course was shut down in March, but is still a popular walking route for local residents.
Bosses have issued guidance to walkers to help protect their course during lockdown, and keep staff safe.
A spokesman said: "Our golf courses are seeing many more people using them as part of their exercise regime during this Covid-19 outbreak.
"Although our courses are truly a great open space for maintaining the official social distancing guidelines, we are asking people to please be aware that they are maintained as golf courses and will be a vital source of income for Blairgowrie and the surrounding areas in the coming months and years ahead."
Walkers and cyclists are urged to stick to the public right-of-way paths around the courses.
The club's spokesman said: "Mowing, irrigation and chemical applications are still ongoing at this time. With this in mind, we would ask the public to avoid going on any and all tees, greens, surrounds and bunkers.
"We have a small dedicated team that have the huge task of keeping our courses alive and well maintained and this would be very helpful to them if we all follow this guidance."
Elsewhere in Perthshire, the Murrayshall Country House Hotel, near Scone, has also issued a plea to the public.
"The paths around our golf courses are seeing many more people using them as part of their daily exercise," a spokeswoman for the hotel said. "Our courses are a great open space, however we still have a small number of greens staff maintaining them and we request in order to keep them safe, people should please refrain from crossing the golf courses."
Clubs have also asked people to keep their dogs on leads.