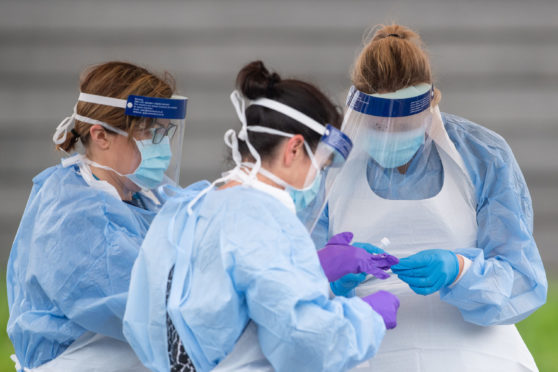 A leading teaching union has criticised management at Perth College for not consulting its members about a coronavirus testing unit being set up in the campus car park.
The UK Government confirmed one of five drive-through facilities in Scotland will open at the Crieff Road institution within days.
It is part of a national push to achieve 100,000 tests a day by the end of this month.
The unit is being put through its paces before it opens to appointments for key workers, beginning with frontline NHS staff.
However, the union Unison – which has already called for an inquiry into a cash crisis at the college – is demanding to know why the test site was agreed without wider consultation, and how the health and safety of the surrounding community can be ensured.
The union said the first its members heard about the facility was when The Courier broke the story on its website on Monday afternoon.
Perth College said it had been sworn to secrecy by the UK Government and had planned to tell staff before the media were notified.
A Unison spokesperson said: "We are dismayed that the senior management team did not notify the trade union in good time, nor consult us about the health and safety implications of it.
"Our members have expressed anger at having to find this out in the press rather than being told by their employer."
The union added: "Unison will be seeking a full explanation on why this has happened again.
"We have asked for further assurances on health and safety arrangements for our members, and how this facility will impact on the wider local community and residents."
In response, principal Margaret Cook said she was asked by the UK Government to keep the plan under wraps.
"We are happy to play our part in fighting this international health crisis," she said. "Many of our students and staff are undertaking key worker roles at this time, and it's great to see an increase in testing being implemented to support people's valuable work."
She added: "We are proud to continue to consider every opportunity to help in this time of crisis, whilst taking shareholders' views into account. However, we are committed to use our resources – including our estate facilities – to be socially responsible and do what we can to help both the UK and Scottish Government's efforts to fight the disease."
Ms Cook said: "We were only notified of the potential of the drive-through testing facility on Thursday last week, and at the UK Government's request, we were unable to communicate this until we had been given approval to do so.
"It was our intention to communicate with staff and shareholders prior to the UK Government's press release but unfortunately, despite our best efforts, it was distributed before we were notified."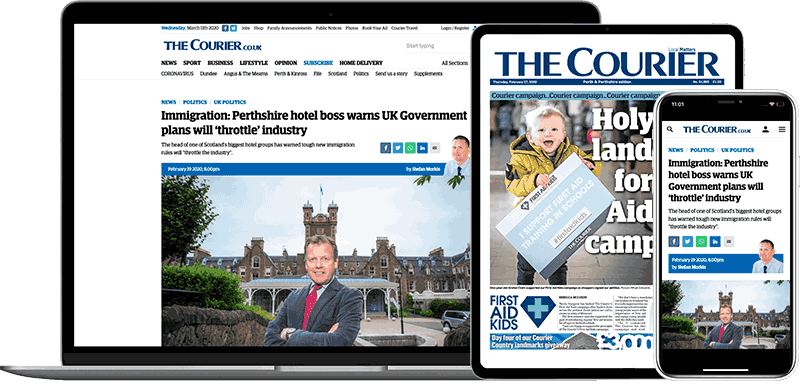 Help support quality local journalism … become a digital subscriber to The Courier
For as little as £5.99 a month you can access all of our content, including Premium articles.
Subscribe