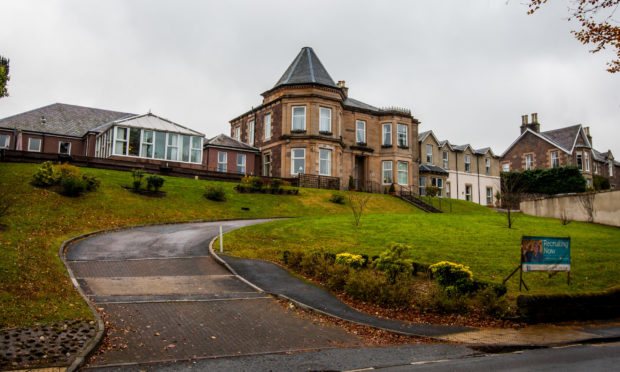 Residents at Balhousie care homes across Perthshire have been sharing their memories of the first VE Day 75 years ago.
Zigrid Stone, 95, from Balhousie's North Inch care home, was in Hamburg on March 8 1945 and saw a different kind of occasion from that enjoyed in Scotland.
She had been working on a poultry farm in central Germany and travelled home to her family in the city when the war ended.
She said: "When I was working on the poultry farm, the area I was in was occupied by the Americans so everything felt pretty normal, but then they started to retreat and left that part of Germany occupied by the Russians.
"I decided that wasn't for me, so I went home. I then went on a coal train to Hamburg to get home, on top of the actual coal. It was pretty horrendous.
"Returning to Hamburg and VE Day was pretty horrible, but my family were OK. Everyone felt pretty flat because everything had collapsed. Nothing worked anymore, nothing at all. Everything was literally at a standstill. It was a terrible feeling really."
Ann Millar, 89, a resident at Balhousie North Inch care home, was 14 on VE Day.
Originally from Hounslow, she was evacuated to Wales with her older brother to live with relatives for a year. On May 8, 1945 she travelled into London with her friend and her father to celebrate VE Day.
"We took the underground into the centre of London," she said. "We walked through all the crowds up the Mall to Buckingham Palace and stood there and cheered like mad.
"Everyone was so happy and excited. Everyone sang while we waited for the King and Queen and the little princesses. We were near the front and saw them beautifully on the balcony."
Norrie Sinclair, 82, also from Balhousie North Inch care home, was born in Perth the year before war broke out and was seven on VE Day.
He said: "I lived on Old High Street in Perth. I was young and don't remember much about VE Day, but I knew there was something happening.
"I thought we'd been invaded there was that much noise. I remember people celebrating in their gardens and coming out of their houses.
"Everybody was happy and thinking thank God for that."
Jane Ewart-Evans, 99, from Dalnaglar care home in Crieff,and her sister Diana were part of a team of codebreakers who are often said to have shortened the Second World War by two years.
The pair were in the heart of London and part of the crowds outside Buckingham Palace on VE day. It was a bittersweet occasion for Jane as she had still to be reunited with husband Denis who wasn't able to return home from service until later in 1945.