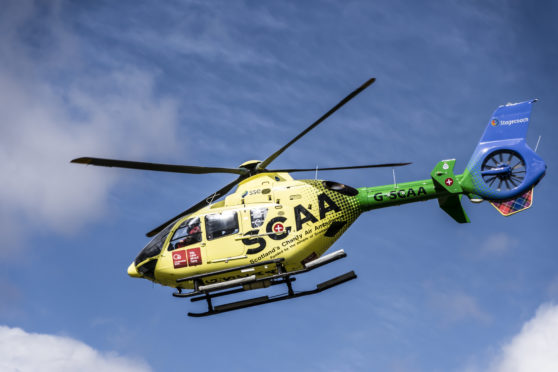 Scotland's Charity Air Ambulance (SCAA) has received a £50,000 donation as the organisation suffer a "significant downturn" in fundraising income due to coronavirus.
The Scone-based emergency service was given the much needed cash injection by their charity partner, insurance provider Phoenix Group, to assist with the air ambulance's life-saving service.
David Craig, chief executive of SCAA said the "tremendous" donation came at a crucial time for the charity which does not receive any government funding.
He said: "Like other charities, SCAA is experiencing a significant downturn in our fundraising income as community activities and key events are cancelled.
"This extremely generous donation from the Phoenix Group will help save lives as our crews continue to operate across the whole of Scotland, wherever required.
"We want to thank the Phoenix Group for its outstanding support – both through this vital donation and our ongoing rewarding partnership in Scotland.
"It is only through support such as this that SCAA will fly on through this unprecedented global crisis and help save and improve lives nationwide."
47% rise in severe trauma call-outs for Perth-based air ambulance – a third involving road collisions
SCAA announced a one year partnership with Phoenix Group in February 2019 which was due to end in spring, however the insurance company has agreed to extend this to the end of 2020.
Susan McInnes, group director Scotland for Phoenix Group, said: "The life-saving efforts of Scotland's Charity Air Ambulance are vital and they need more funds during these difficult times, so they can continue to help those in need.
"We really value the great work they are doing and are very proud to support them.
"Our donation and extended partnership with Scotland's Charity Air Ambulance is part of Phoenix Group's wider commitment to support communities across the UK battling the effects of COVID 19.
"At this time of economic and social uncertainty all charities are vulnerable and we recognise how critical it is that financially able businesses help charities with their critical work."
SCAA has attended more than 2400 emergency call outs nationwide and rushed to 352 life-threatening emergencies in 2019, an 8% increase on the previous year.