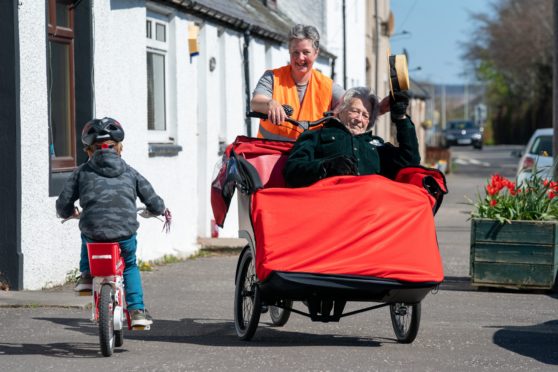 A bicycle built for three will be opening up new horizons for older folk in the Auchterarder area when the lockdown restrictions are lifted.
A local rider has joined forces with the charity Cycling Without Age Scotland to take delivery of the town's first trishaw and is preparing to take passengers on outings just as soon as it's deemed safe to do so.
Rowena Ross from Aberuthven, has been volunteering with the Perth chapter of the organisation, which has been offering the trips around the city to elderly residents for three years now.
The specially built bicycles have a carriage up front with room for two people and can switch from pedal power to electric when the going gets tough for the person in the saddle.
The mum of two is thrilled to be bringing the scheme closer to home and has been taking her father, Johannes Surkamp, who lives in Auchterarder, on trial runs to help her identify suitable routes and spread the word about the new service.
She is hoping locals will see the pair passing by and put their names on a waiting list for passengers, or sign up to train as volunteer pilots so the initiative is ready to hit the road when the social distancing guidelines are relaxed.
"It's good to have something to aim for beyond lockdown," Rowena, 51, said.
"I'm hoping the care homes in Auchterarder will get involved and I'd love it if people were able to use it to take out their family members too. It's such a nice thing for people to do together.
"My dad founded the Rudolf Steiner school in Auchterarder in 1972 so I was brought up to believe that community was important and that is what this is all about.
"When you go past people everyone smiles, everyone waves. It's a real mood changer, not just for the people on the bike."
The Cycling Without Age movement started in Denmark in 2012 and has now spread to 40 countries. It arrived in Scotland in 2017 when the first group was launched in Falkirk.
The rides are a chance for people who are not as mobile as they once were to get outdoors and experience the world around them in a way that's not possible through the window of a fast-moving car. Along the way, they might recall memories and share stories with their pilot, they might bump into people they haven't seen in years or they might be content to sit back and enjoy the breeze in their face and the birdsong in the hedgerows.
An evaluation by Heriot Watt University found the activity boosted participants' mental and physical health and wellbeing and reduced the impact of social isolation.
The Auchterarder trishaw is on loan from Cycling Without Age at the moment but the team are hopeful that once Rowena and co have proved its worth the community might be willing to help raise the £10,000 for a bike of its own.
To find out more about becoming a passenger, or training as a pilot, contact Cycling Without Age Scotland on 01324 467272.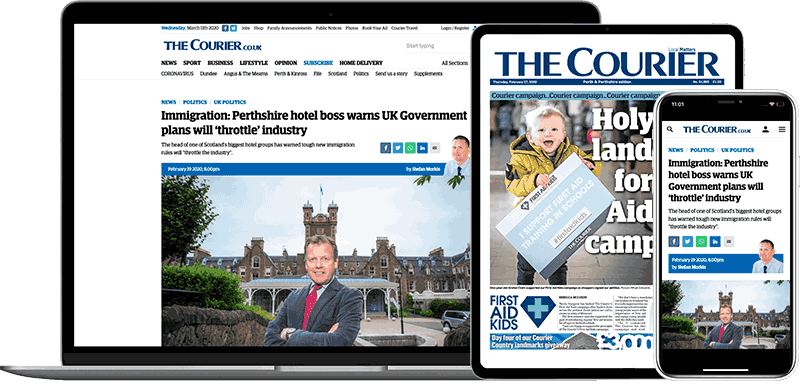 Help support quality local journalism … become a digital subscriber to The Courier
For as little as £5.99 a month you can access all of our content, including Premium articles.
Subscribe