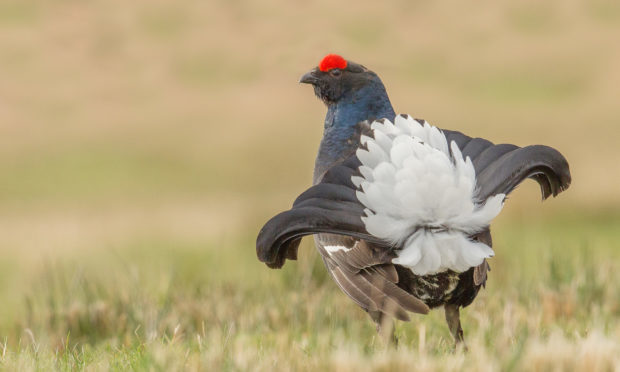 Endangered grouse facing population decline across the UK are thriving in Perthshire and Angus.
Black grouse population has been declining in recent years but new checks have found the species is thriving at breeding sites on managed moorlands in the uplands of Tayside.
Almost 900 of the birds have been counted in Angus Glens this spring, equalling numbers of previous years.
Glenogil and Dinnet estates are among those to see active grouse breeding sites, known as leks.
Previous research has shown the number of black grouse leks on a driven grouse moor was double the amount found on a moor where gamekeepers were not employed.
The peak period for "lekking", when males display to attract females, is April and May.
Danny Lawson, head keeper at Glenogil Estate, said: "This year we counted 109 males on 15 lek sites, which is on a par with previous years.
"We record the number of birds at the same sites and at the same time each spring, to make sure our conservation strategy is working.
"We know the sites where the male birds will come and lek and we ensure that they are not disturbed in the breeding season. The estate has a huge expanse of moorland and grassland and no commercial forestry, so the black grouse can range over a wide area and are less likely to be attacked by predators.
"Rotational heather burning, removal of bracken and predator control are the main activities which help our moorland birds."
Seven of the estates which make up the Angus Glens Moorland Group and the Grampian Moorland Group have recorded 872 black grouse this year.
Lianne MacLennan, co-ordinator of the Angus Glens Moorland Group and the Grampian Moorland Group, said: "The male black grouse gather at their leks, often at dawn, to display for the females, greyhens, who will select their mates.
"On still mornings black grouse leks can be heard from over two miles away.
"The conservation work undertaken by moorland managers year after year ensures that these are among the last remaining areas where black grouse can live and breed successfully.
"It's a joy to be surrounded by so much wildlife."