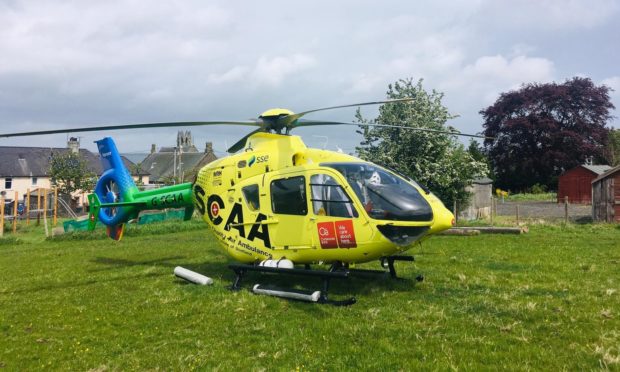 Airborne paramedics were called to rescue a woman who was feared trapped under a tree in Abernethy yesterday.
Scotland's Charity Air Ambulance (SCAA) raced to the village near the boundary between Perth and Kinross and Fife after receiving a report of a walker who had got into difficulty.
Locals said the casualty had been hit by a tree as the east of Scotland was battered by winds and rain.
The drama unfolded at a popular dog walking spot, known locally as Witches Road, which has many trees on the hillside hanging over the circular path at its crest.
The air ambulance landed in a grassy field beside the car park at Kirk Wynd, close to the playpark and football pitch yesterday morning.
The aircraft was then joined by one regular ambulance before both crews made their way up the single track path to attend to the woman.
The casualty's identity and condition were not known last night.
Local residents reported that the woman was awake and speaking when the medical crews arrived to treat her.
One villager told The Courier: "There was a lady up the glen who had been hit by a tree.
"The helicopter landed at Kirk Wynd beside the car park.
"I understand that she was conscious and able to talk when they reached her."
"It's a popular place for walking," another added, noting the blustery conditions on Friday morning.
"There are some trees that come out over the path from the hill, and there's a mix of big ones and smaller ones."
The air ambulance crew were not required to airlift the woman to hospital, but provided ground support to the NHS paramedics.
The callout came during the week of SCAA's seven year anniversary.
Almond and Earn ward councillor David Illingworth praised the paramedics for their swift action.
"Thank you to all involved during the incident," he said.
"Thank you to SCAA for coming out and dealing with the situation."
SCAA confirmed yesterday that it was set to benefit from a newly launched £6 million emergency support grant from the UK Government. The Scone based charity is one of 21 air ambulance organisations to receive a slice of the funding.
Mental health, ambulance, autism and dementia charities are also receiving additional money to help them meet increased and changing demand as a result of Covid-19.
David Craig, chief executive of the charity, said the funding would help plug a gap in fundraising caused by the pandemic.
He said: "It costs around £4 million a year to sustain our two life-saving helicopter operations and our frontline crews have been operational seven days a week as normal throughout this lockdown period to respond to the needs of those seriously ill or injured in Scotland.
"Like every other charity, our reduced ability to fundraise at what is normally our busiest and most productive time of year will undoubtedly result in a substantial reduction in income."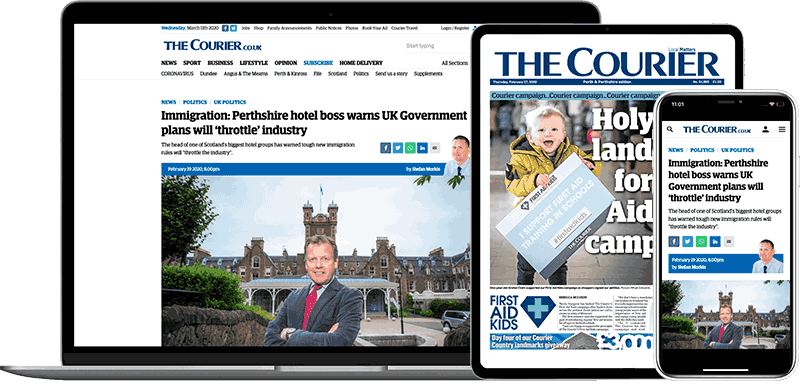 Help support quality local journalism … become a digital subscriber to The Courier
For as little as £5.99 a month you can access all of our content, including Premium articles.
Subscribe