VIDEO: Supermarket staff go viral in bid to ease coronavirus stress
By
Kirsty McIntosh
June 17 2020, 4.37pm
Updated: June 18 2020, 7.39am
A video of Perthshire supermarket workers dancing in the aisles has gone viral after being posted on social media.
The footage of the staff at Tesco's Blairgowrie store has been viewed more than 60,000 times since it was posted earlier this week.
More than a dozen staff joined manager Susan Cameron to march through the store to the tune of the Proclaimers I'm Gonna Be (500 Miles).
Susan herself led the dance, donning a bright red wig and leopard skin dress to do so.
She said what was intended as a bit of fun to allow staff to relax during the coronavirus pandemic had "shocked" her by becoming a hit among customers too.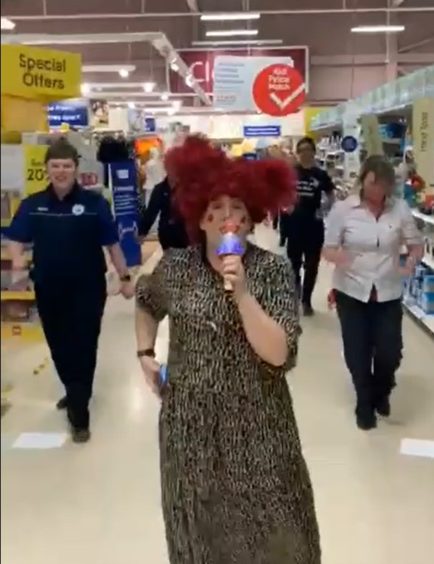 She said: "We've been going through a lot of things and it's been quite stressful, so I thought we'd do something to cheer people up.
"We'd been talking about TikTok being a thing so we did a something in that style. We filmed it on the Sunday after the shop closed
"I have a reputation for being off the wall – dress in up and doing daft things but never before has it been so public.
"Initially I thought I might get five or six of the staff to join in but when I saw them all gathering I thought 'oh my goodness'. It was nice to see people relaxing and having fun."
She added that the video was not initially intended to be seen by anyone other than staff.
"Initially it was just to be for the shop's Facebook group, which is just employees, but I showed it to a couple of friends who said we should post it publically.
"Before we knew what had happened it had just run away. Between my post and a friend's post it's been viewed over 63,000 times – I was shocked and surprised.
"The comments have been mostly positive – people have said it really cheered them up, when we only set out to cheer people up at work."