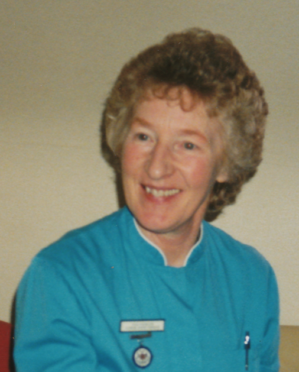 Tributes have been paid to retired Crieff Cottage Hospital matron and community stalwart Margaret Kinloch, who died at Perth Royal Infirmary aged 87.
Margaret was born into a farming family at Clathybeg, Gask, on August 12, 1932.
After completing her initial nursing training at PRI, she went on to Dundee to do her midwifery.
While working as a junior doctor at PRI in 1967, where she was surgical ward sister, she met colleague Dr Alastair Morrison who became a lifelong friend.
He said: "When I returned to Crieff two years later as a trainee GP, I discovered that she was now matron of Crieff Cottage Hospital. Thereafter we had a close and harmonious professional relationship lasting almost 30 years."
Dr Morrison said: "Life would not have been easy for Margaret in her role as hospital matron, but she was always calm and firmly in control.
"She had to cope with endless administration problems and was ultimately responsible for everything that went on.
"She always achieved the correct balance of firmness and flexibility. A typical comment from those who knew her was that she was fair to everyone."
The cottage hospital was always open and people would turn up at any time, day or night.
"Margaret also had to cater for hospital clinics for PRI consultants, again requiring much organisation," said Dr Morrison. "Compared to the present day, there was very little technology available and practically everything had to be done manually."
When the new Crieff Community Hospital opened, Margaret decided to retire.
Having lived in Crieff during her time at the hospital, she decided to relocate to Perth, where she enjoyed pursuing a wide range of activities.
She performed with the Perth Amateur Operatic Society for more than 30 years and was an enthusiastic member of the Muirend Bridge Club.
She also returned regularly to Crieff to attend art classes, a hobby for which she showed considerable talent.
Dr Morrison said: "She continued to visit us from time to time, always taking a keen interest in the medical profession which had been so important to her."
Margaret continued her association with Gask, being an active member of Gask Parish church all her life, he said.
"I have so many fond memories of our time at Crieff Cottage Hospital, in particular the Christmas Eve parties which most of the doctors attended," Dr Morrison said. "These were filled with much music and merriment and my family remember especially taking turns at being two halves of the donkey which went round the beds with gifts for the patients.
"This was all presided over by Margaret.  It was something at which she excelled."