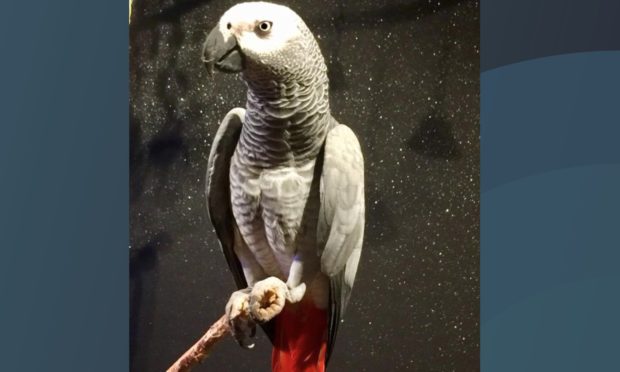 A foul-mouthed parrot who thinks hes a pigeon has his owner in a flap after escaping from his Perth home.
Bandit has not been seen after accidentally flying through an open window near the St Catherine's Retail Park on Tuesday.
His owner Scott Young has been desperately searching for the Congo African Grey ever since.
He says the six year old bird, which he has had since he was a chick, has an "extensive" vocabulary – including several fruity phrases.
Scott, 55, says that Bandit also thinks he's a different species altogether.
"He says: 'I'm Bandit, I'm a pigeon', said Scott. "I say that to him because that's what he looks like – a pigeon with red tail feathers.
"I've has him since he was six or seven weeks old and he didn't speak till he was about three months old. But he'd been biting me and I'd been swearing and he'd remembered that. That was when I had to stop swearing around him.
"The worst thing he'll say is 'You're a d***', because that's what I say to him when he's making a mess, but he won't tell you to eff off or anything like that.
"He says a lot – he has a very intelligent brain and he's got a wide vocabulary because I speak to him all the time.
"The place is too quiet without him."
He said that Bandit's escape had been too fast for him to prevent.
"I was making my tea and the window was open a little bit", he said. "He hit the window and slid down and before I could do anything he was away towards Dunelm.
"He was like a whippet in the sky. By the time I got my shoes on and got downstairs he was just another bird in the sky.
"I was all round the car park shouting 'Bandit' like an idiot for over an hour.
"It's been 24 hours now and there's been no sightings. I just need one sighting."
Any sightings of Bandit can be reported to Scott at thestray@icloud.com or on a dedicated Facebook page and he is offering a reward for his return.