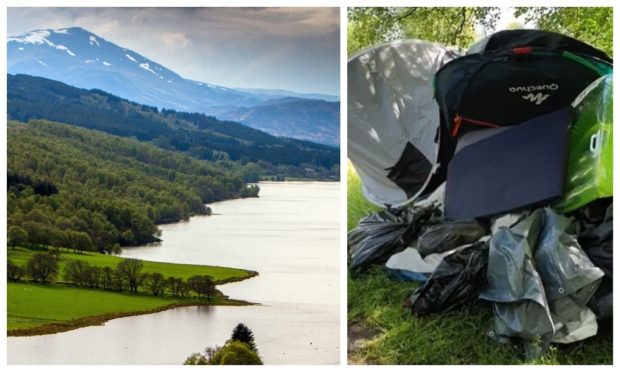 Angry Perthshire residents are calling for action after campers dumped tents and rubbish and left locals scared to leave their homes.
Tourists descended on Loch Tummel and Loch Tay over the weekend, leaving bottles, discarded equipment and human waste in their wake.
Fly-tipping by campers has been an ongoing issue but now residents say it has reached such a level they do not feel safe to go out and enjoy the area surrounding their own homes.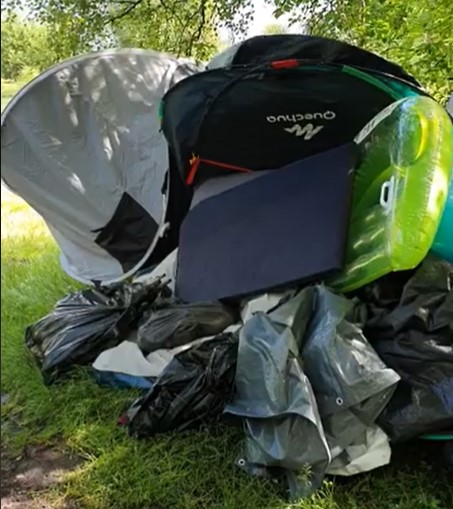 Jennifer MacIntyre, who runs The Stable Loft on Loch Tummel, said: "It's the worst we've seen it. It was terrible, it was so bad.
"There were cars and people everywhere. There were campers everywhere.
'Bonkers': Tourists slammed for breaking lockdown rules to travel to Highland Perthshire beauty spots
"They weren't just in the usual camping spots, a lot of them had driven into fields and set up camps.
"This weekend was exceptional. We've always had a problem with campers and it's getting progressively worse.
"The police have been more visible and there'e been more patrols but they're fighting a losing battle.
"There's no room for emergency vehicles to get past because of the parking.
"We, as locals, should feel safe to go for a walk or a bike ride but we don't at the moment."
Jennifer believes a no camping zone would help deter tourists who destroy the local scenery and said residents are ready to group together and develop a plan to tackle the issue.
Police patrols to be increased in Highland Perthshire after huge influx of visitors to beauty spots
Mike Williamson, SNP councillor for Highland Perthshire, has asked for a traffic management order to prevent roadside parking and believes there may have to be a conversation about banning alcohol consumption in the area.
Mr Williamson said: "People are pretty disgusted by what is being left behind and rightly so.
"It was really bad. The council were up and the police were up. My phone has been red hot all weekend about it. It's just ridiculous.
"I've been in touch with council officers today and what I've told them is we're keen to do is try and get a focus group of residents, officers, police and Sepa and other agencies to to discuss how we're going to solve the problem.
"This isn't just going on because of Covid, this is going on outside of Covid as well."