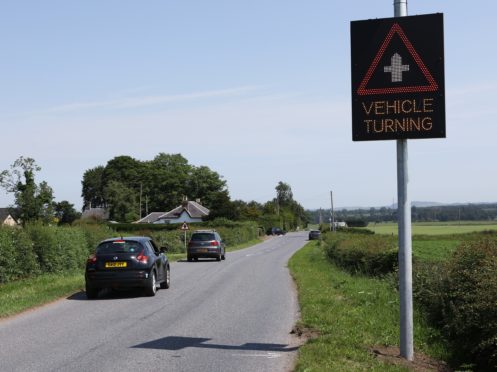 New warning signs have been installed at a Perthshire accident blackspot.
The Tibbermore junction, between the Windyedge Junction on the A9 and the A85 west of Methven, has been the scene of a number of crashes in recent years.
Two passengers were killed when their friend, who was driving, pulled out into the path of oncoming traffic eight years ago.
Perth and Kinross Council is behind the new safety measures, which follow a three year campaign for action.
The vehicle activated signs will flash up a warning advising motorists to slow down if they are travelling at more than 40mph.
Another message will advise them if another vehicle is approaching or crossing the crossroads.
Additional warning signs will be erected on the two minor roads to warn vehicles of the junction ahead.
Almond and Earn Conservative councillor, David Illingworth welcomed the move.
"It is very gratifying to actually see them in place," he said.
"The VAS system will replicate one that is currently operating on the A977 and will have two VAS on the main road into Tibbermore.
"There have been a few accidents here so I'm sure the local community will welcome the installation of the VAS at this site."
In 2012, an 85-year-old woman crashed into another driver at the junction after she failed to give way to the oncoming vehicle. The collision killed two of her friends.
Efforts to reduce the risks at the junction were stepped up last year when a 40mph speed limit was introduced in March.
It's understood Perth and Kinross Council plans to review the impact of the new VAS signs before considering further options, such as a staggered junction, a roundabout, or traffic lights.
The authority did not respond to requests for comment.