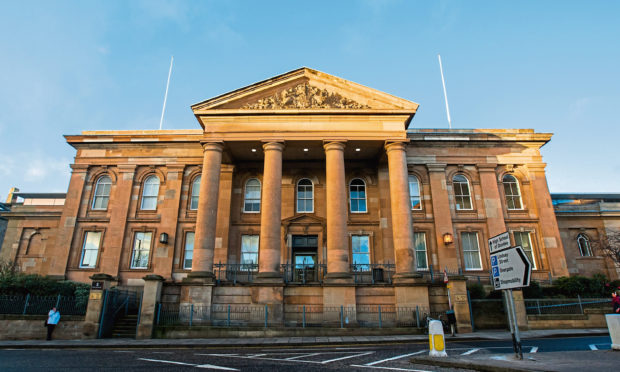 The owners of a Perthshire farm have been fined £4,000 for health and safety failings which led to an employee losing part of his leg after it was crushed under more than a tonne of concrete.
William Thomson, 33, was trapped under the 1.3-tonne wall panel when it tipped over during an operation to create a silage pit on the farm in Kettins.
Despite several operations, doctors were unable to save his leg and Mr Thomson was forced to have a below-knee amputation.
Farm owners A&P Grewar were fined after admitting failing to carry out any risk assessment and being responsible for their employee's injury.
Sheriff Thomas Hughes told Dundee Sheriff Court Mr Thomson had been employed by the farm for about 10 years prior to the accident at Flatfield Farm Steadings on November 7 2017.
Sheriff Hughes said: "He was asked to help the partnership's farm manager with the erection of a silage pit. There had been difficulty in placing panels into the correct position.
"Following considerations on how to overcome the difficulty, Mr Thomson stood in front of the panel. As the panel moved to the left, it started to fall.
"Mr Thomson tried to run away from it, but did not manage to get completely clear of the panel. It caused him to fall and trapped his left leg and foot.
"He was taken to Ninewells Hospital in Dundee. He required an operation on his ankle but unfortunately, his condition deteriorated to the extent that his foot required to be amputated.
"Unfortunately, Mr Thomson has been left with significant physical problems. The proprietors are extremely distressed by what has happened to him.
"They have tried to assist him in every way they can and still employ him."
The court was told they had adapted a tractor specially for Mr Thomson to operate.
Sheriff Hughes said: "It was clear that the partnership has been well run over many years. They have no previous convictions.
"They fully accepted their responsibility for the charge and make no attempt to try to minimise the consequence of the error which has occurred.
"They instructed solicitors to intimate a plea of guilty as quickly as possible and have made swift remedial measures to ensure that this should never happen again."
The court was told father-of-one Mr Thomson, from Tealing, had been left with constant "phantom pain" in his missing foot.
He was also described as previously enjoying football and go-karting and had been forced to give up those activities as a result of the amputation.
The court heard the farm's owners had broken health and safety guidelines by exposing their employee to the danger of injury.
There had been over-reliance on the knowledge of the farm manager and no risk assessment had been completed for the job, it was said.