VIDEO: 'Just love more': Perthshire cancer campaigner Fi Munro says she has weeks to live
Love more. That is the message that Perthshire cancer campaigner Fi Munro has asked people to take from her story after revealing she has stopped treatment and has been given weeks to live.
Award-winning blogger Fi has been living with stage four ovarian cancer for more than four years.
She has spent much of that time campaigning, raising awareness of cancer and some of the issues facing patients and exploring every treatment possible.
Fi's latest video is above this article
'Not out of options yet' – Terminally ill Fi Munro launches appeal for private US treatment after therapy trial fails
Fi, who lives in Errol in the Carse of Gowrie with her husband and dog, has already had major surgery to remove several organs including her womb and spleen.
The 34-year-old, who wrote a book titled How Long Have I Got? had been exploring re-purposed medication, whereby drugs produced for other conditions are used against cancer.
In December, she launched a crowdfunding appeal to help her explore further treatment options in America, after immunotherapy failed to stop cancerous growths on her lungs.
However, in a video posted on social media at the weekend, Fi explained that she would now be receiving palliative care from home.
Her message, which has been watched by thousands was a simple one, urging people to love more, and to forgive.
She said: "My health has declined a lot and I was in hospital on Friday asking for support because I felt so unwell.
"We've stopped treatment, so we're looking at weeks now.
"I'm very weak, so I'm focusing on my family and a handful of very close friends.
"This is really really hard and I'm exhausted."
Fi explained that she is only able to eat a few hundred calories a day and is struggling to drink.
She is receiving care at home due to restrictions on access to hospices, and heaped praise on the NHS community team.
"I feel so much love. If I could tell you one thing, it's that we just waste so much of our lives not focusing on love," she added.
"So much bullsh*t can be cut by just loving more, forgiving and realising people make mistakes.
"Love is the answer to everything and I wish I'd known that for 35 years.
"I feel incredibly blessed for the life I've had. I wouldn't change a thing, apart from love more.
"Any problem you're facing today, just ask yourself what would happen if you loved more. Would it fix it?"
In what Fi described as her hardest update, she thanked everyone who has helped her throughout her battle.
She said: "I'm so grateful for every message I've received over the last four and a half years. I can't tell you what it means to me.
"If you take nothing else away from my life, please love more. That's it, it's that simple. Let that love soak into you to."
Brave Tayside woman with terminal cancer fundraising for treatment which could prolong her life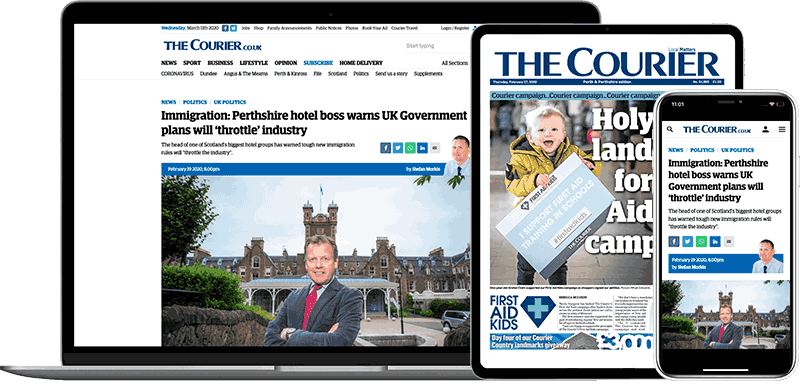 Help support quality local journalism … become a digital subscriber to The Courier
For as little as £5.99 a month you can access all of our content, including Premium articles.
Subscribe