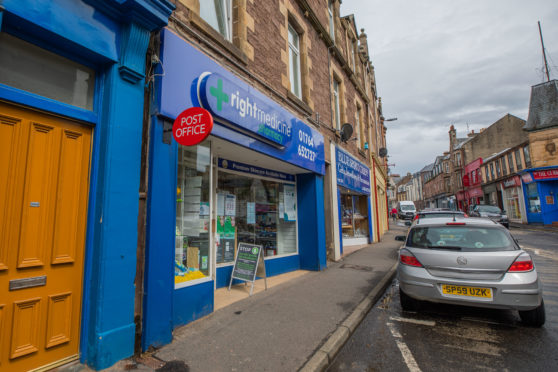 A Perthshire town's High Street post office is closing, just months after it reopened.
The Crieff High Street branch, based in the Right Medicine Pharmacy premises, has been closed since March 20 due to concerns about social distancing measures inside the premises.
'Yet another worrying development' – High Street post office closure is another blow for Strathearn town
However, bosses have now revealed the postmaster has resigned and the use of the shop has been withdrawn.
It's the third time in recent years that the service has been disrupted.
The branch closed in 2016, and was replaced with a counter in the nearby Nickel and Dime store, which closed in 2017. It reopened in Right Medicine Pharmacy on November 8.
A Post Office spokesperson said the business was looking for a new postmaster, adding: "We apologise for any inconvenience this may cause."
Locals can instead access the Post Office services on Crieff's King Street or in Muthill.
Liz Smith, Conservative MSP for the Mid Scotland and Fife region, called on the Post Office to restore services as soon as possible.
She said: "This is a very regrettable situation which will undoubtedly cause inconvenience to Strathearn residents who have already seen many of their local services diminished.
"Post offices are a lifeline for local communities, most especially at a time when the effects of Covid-19 are so difficult."
SNP MSP, Roseanna Cunningham, who represents Perthshire South and Kinross-shire, said: "I understood completely at the start of lockdown when the Right Medicine Pharmacy decided it was unable to continue providing Post Office services alongside its pharmacy business but I had hoped that this would only be a temporary situation.
"Unfortunately, but quite understandably, that will not be the case.
"Despite my disappointment, I really do want to thank the Right Medicine Pharmacy for taking on the Post Office role when they did, and no one could have foreseen the changes that have overtaken us all since then."