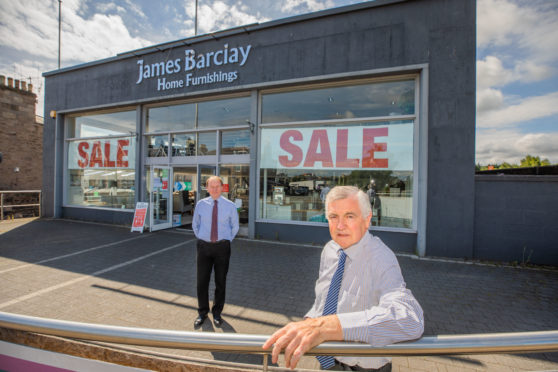 One of Perth's best known businessmen is stepping down after more than five decades of trading.
James Barclay, who runs a large furniture and carpet showroom on the Glasgow Road, began his career as a teenager and set up his own business in the late 1960s.
He is now preparing to retire and hand control of the business to shop manager John Hodge.
Mr Barclay, 75,  said: "It's the end of an era for me, but the start of a new era for the business."
As he retires, the company will close its furniture department but continue its focus on carpets.
The top floor of the shop will be rented out to new tenants – still to be announced – and the carpet department will move downstairs.
The shake-up has been in the pipeline since August, but was held up by lockdown.
Mr Barclay said he was looking forward to retirement, but added: "It's sad in a lot of ways, because we've been here for a lifetime.
"I'll definitely miss meeting the people. I've been meeting second and third generations of the customers who came in when we first started.
"We've also got a good loyal staff base. One of our fitters has been here for 46 years and is going to continue. I'll miss working with them every day."
Mr Barclay began his working life as an apprentice upholsterer with local Perthshire company Thomas Love & Sons.
After completing a five year apprenticeship, he left to train with the Allied Hotel Company in upholstery and also carpet refurbishing.
In 1968 he decided to start his own business, so working from his parents' home in North Methven Street, Perth he embarked on a lifetime ambition.
It was not long before the business started to grow and after just one year he opened his first shop – "just a little two room place" – at 98 Canal Street, Perth.
In the days when rent was a £1.00 per week plus rates, the business quickly grew and within three years Mr Barclay found himself moving into new premises at 36 Leonard Street, Perth.
The company soon outgrew its premises again, and Mr Barclay jumped at the chance to buy a site at 2 Glasgow Road, gaining 18,000sq ft of retail space.
Mr Barclay said: "I think now is a good time for me to step down, and I know that the business is in good hands. I can see it going from strength to strength."