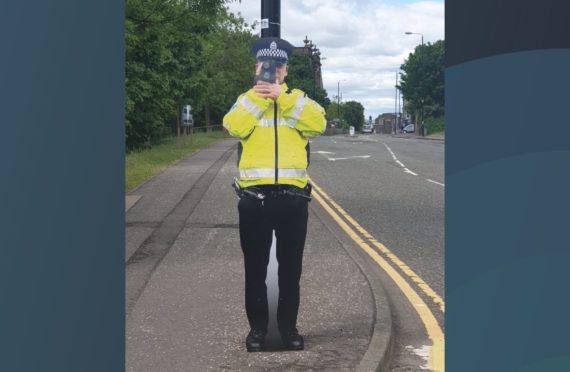 A pop-up policeman designed to reduce speeding in Strathearn has been stolen.
The figure, affectionately known as Jim, was last seen on Sunday evening in St Fillans.
Police believe he was taken as a prank but warned that those responsible could face theft charges.
Jim was purchased by the local community trust and a replacement would cost more than £100.
In a post online, Police Scotland said: "Many of you will have at some point come across our favourite plastic patrolman, Pop Up Jim. Jim has been known to patrol many areas of Tayside and beyond, and recently he has been stationed in St Fillans.
"Jim was on duty at 5pm last Sunday at the junction of the main A85 and Station Road, doing a good job of keeping everyone safe and slowing down speeding drivers.
"Unfortunately, by 8:15pm he had vanished. No radio call, no note, nothing. We don't think he's gone AWOL, so there must be some other explanation.
"In all seriousness, while someone may have removed Jim thinking it was a funny prank, it's not – it's a theft.
"This Pop Up Jim doesn't belong to Police Scotland, but was purchased by the local Community Trust for the purpose of making the streets of the village safer by slowing down speeding traffic, and was having the desired effect. He will cost well over £100 to replace.
"If you saw anyone paying him more than passing attention, or saw any vehicles parked up beside him, we'd like to hear from you."
If you have any information that could help us find Jim or those who took him, please call 101 or speak with any police officer. Also, information can be given anonymously through Crime Stoppers on 0800 555 111. Our reference is incident 3905 of 12th July.