VIDEO: 'I'm eternally grateful': Heroic Fife girl, 7, saves Perthshire farm from raging inferno
The boss of a Perthshire fruit farm has said he is "eternally grateful" to a plucky seven-year-old who helped save his business from going up in flames.
Little Analice Peebles raised the alarm when she saw smoke rising from behind the garden wall of the holiday cottage where she and her family were enjoying a week-long post-lockdown break.
A video interview with Analice is above this article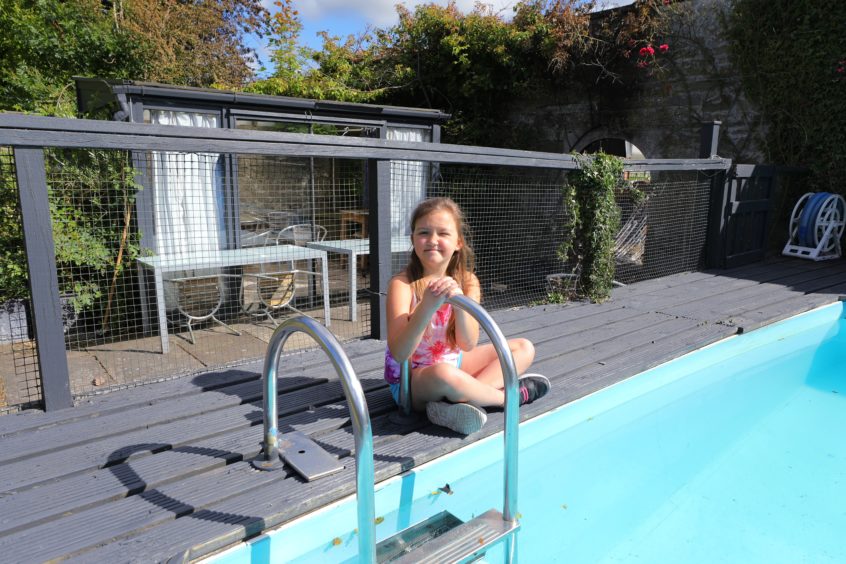 Her quick-thinking action triggered a major rescue operation with 12 fire crews scrambled to the site near Blairgowrie.
However it did mean Analice had to drop her plans to swim in the outdoor pool, because firefighters needed its water to fight the raging inferno next door.
Allen Innes, manager of Rosemount Farm, praised the young hero. "If it wasn't for her quick response we wouldn't have had the fire service out so quickly," he said.
"She really saved the day and I'm eternally grateful to her."
The fire broke on Saturday morning and emergency crews stayed on site for most of the day, fighting to contain the fire from spreading to other parts of the farm.
Analice, from Kingskettle in Fife, had arrived at the holiday home the night before the blaze.
She was playing in the garden, getting ready for her first dip in the swimming pool, when she spotted the smoke.
Grandmother Shona Peebles said: "We were at the house for a week's break with the family. We were just happy to get out of lockdown for a wee while.
"Analice came running and told us about the smoke. We told the owner of the house, who ran round to find someone at the farm.
"Within a very short space of time, it was a huge fire.
"I have to say it was quite scary," she said. "Analice was getting pretty hyper.
"None of us – apart from my husband who used to be a firefighter – have ever been as close to a blaze like that before, so it was quite an experience."
She said: "It was big and fierce, but thankfully it was far enough away from the house that we knew we weren't in any real danger.
"But it could have been a lot worse if Analice hadn't spotted the smoke in time."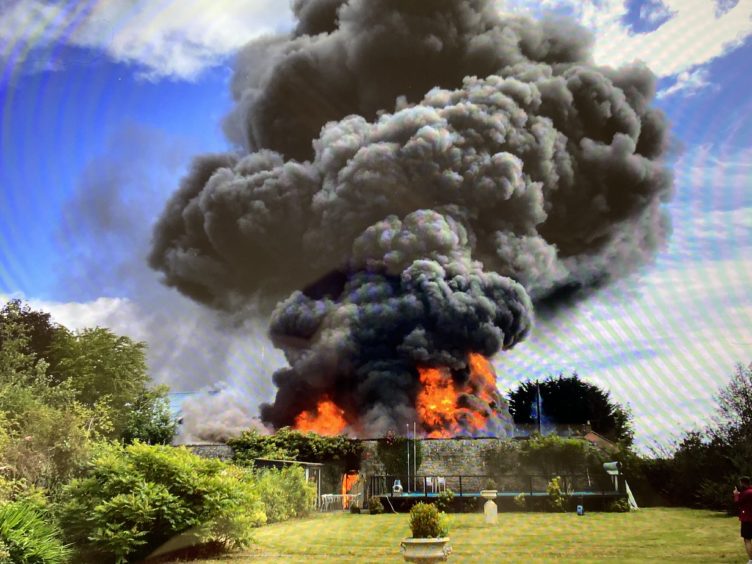 The family had been planning to spend part of the day relaxing at the pool.
"Obviously, we had to change our plans," said Shona. "We were told there was a problem with the water supply in the area, so when the fire crews arrived they needed to drain the pool and use the water for their hoses."
Analice, a pupil at Kettle Primary School, said: "I was just playing a game with myself outside when I saw the fire.
"I told the owner of the house and then I told my family. Someone had to use my granddad's bike, because they were trying to find the owner of the farm."
She said: "My family thanked me for what I did. They were really proud of me."
Mr Innes said if it wasn't for the quick actions of Analice and the fire service "we wouldn't be where we are now."
No one was hurt in the blaze, which was contained to a 164 sq ft patch at the corner of the site. Some palettes and farming machinery were destroyed.
Local councillor Caroline Shiers praised the youngster's actions. "Well done to Analice for her vigilance and for taking prompt action," she said.
A spokesman for Scottish Water explained why fire crews used the outdoor pool to extinguish the blaze.
"During major fires, with multiple appliances attending, the fire service requires a very high volume of water in a short period of time," he said. "Rural water mains which are designed to serve a relatively small number of customers may not be able to provide sufficient flow."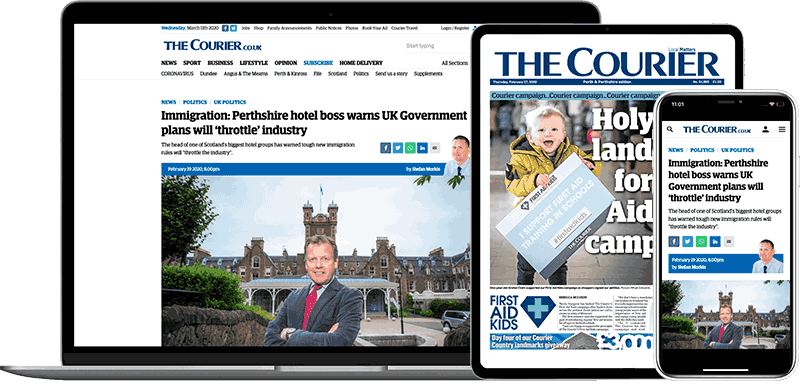 Help support quality local journalism … become a digital subscriber to The Courier
For as little as £5.99 a month you can access all of our content, including Premium articles.
Subscribe