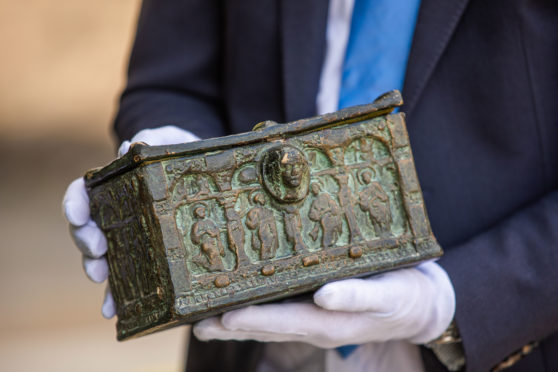 An ornate charter chest which reputedly belonged to Mary Queen of Scots has been unearthed during a house clearance at an historic Perthshire manor.
The box, which was used to store papers and documents, is said to have been left by Mary at Cadzow Castle, near Hamilton, after her escape from Lochleven.
Antiques hunters discovered the treasure during a clear-out at Bardmony House, near Alyth.
It is one of more than 80 collectable items recovered from the 19th Century pile, after it changed hands for the first time in more than 400 years.
They will go under the hammer at a sale of antiques and fine art, hosted by Perth's Lindsay Burns and Company.
The nine-and-a-half inch wide chest, decorated with a female face and depictions of saints, was found with a typed note stating: "This charter chest which originally belonged to Mary Queen of Scots, was left at Cadzow Castle on Her Majesty's departure for the Battle of Langside in 1568."
"We were delighted with this discovery," said auction house director Nick Burns. "The family at Bardmony House were aware of its significance, and it was always a highly regarded piece of their collection."
He said: "It was great to find this with a letter of provenance within it. The design and artwork, which shows Saints in cloisters around the sides of the box, suggests it is from the time of Mary Queen of Scots."
An inner lining appears to have been added at a later date.
"We've already had a lot of interest in this one," said Mr Burns, speaking ahead of the August 4-5 sale. "I spoke about this item to one of our clients, who happens to work on the Antiques Roadshow, and we thought it was very difficult to put a price on.
"How do you value something like that? It could make several thousand pounds or it could meet the lower estimate of a few hundred, it really depends on how the market receives it.
"But anything connected to Mary Queen of Scots, anything of good historical importance, generally stands up well and will always attract a lot of interest."
Bardmony House, which boasts nine bedrooms and two kitchens, was sold during lockdown.
It had belonged to the aristocratic Napier family – descendants of Sir Charles Napier, a decorated Royal Navy officer and politician – who put it on the market in 2017 for offers of over £900,000.
The oldest parts of the house date back to the 15th century, when it was originally a staging post for monks. The neo-classical Georgian facade was added in 1830.
Guests over the decades included Princess Margaret, Grace Kelly and Rainier III, Prince of Monaco.
Another visitor was Dame Barbara Cartland, whose autographed 1978 LP Album of Love Songs – now something of a cult classic – is also included in the sale.