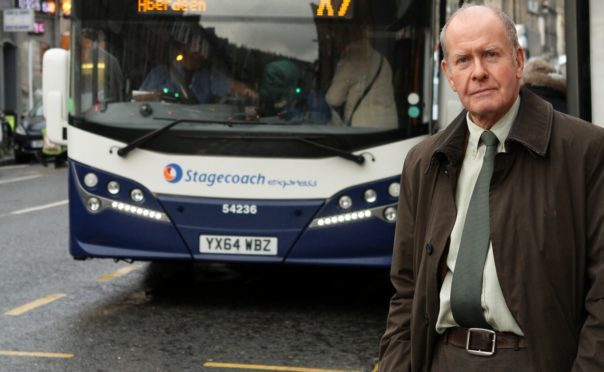 A Perth councillor has slammed a revised Stagecoach bus service claiming it will leave key workers employed on the outskirts of the city without a safe route home at night.
Willie Wilson, Liberal Democrat councillor for Perth South, has written to the bus company regarding the "disastrous" and "cack-handed"  changes to the No 7 service along Glasgow Road towards Lamberkine Drive and Scone.
Stagecoach is reducing the frequency of its buses along the route from every half hour to every hour and has changed the number of stops.
Mr Wilson said similar changes were already rejected by the public and the local authority when proposed last year.
"This area is hilly and difficult to negotiate for elderly, infirm or disabled people. With the bus service being withdrawn completely, some passengers have to walk at least half a mile to get a bus.
Concerns as Stagecoach reveal plans to cut back Scone and Oakbank bus service
"The timing of the late night bus is also completely unacceptable and key workers at the shop in Oakbank, the nursing home, catering establishments at Lamberkine Drive and Broxden now no longer have a safe return bus service to the city centre that can take them home after working their shift.
"This is a heath and safety issue and should be tackled right away.
"This disastrous route was suggested before by Stagecoach and rejected firmly by the public and the council with huge support from myself.
"Why they are trying to introduce this cack-handed route is a mystery to me and I have written to them in the strongest possible terms asking them to review the matter and make changes at the earliest opportunity."
Stagecoach say the changes are determined by predicted passenger uptake and have submitted a registration to make the revised timetable permanent.
A spokespersonsaid: "In this period of uncertainty we have had to make changes to many of our services, including service 7 in Perth.
"The main proposed change is to reduce the frequency from 30 minutes to hourly due to a reduction in passenger demand.
"We welcome feedback from our customers on this via our feedback form on www.stagecoachbus.com."