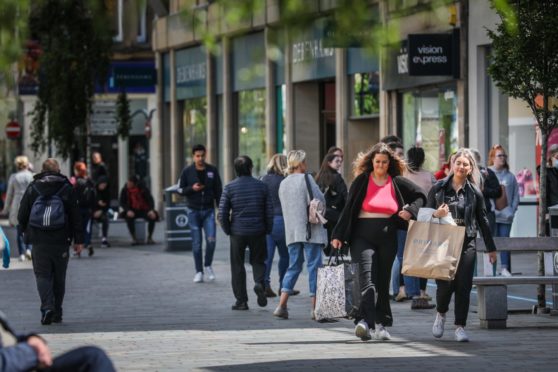 Out-of-town retail developments should be discouraged in an effort to support struggling high streets traders as they battle to survive after lockdown, Perth and Kinross Council has been told.
Local authority chiefs are also considering lifting some planning fees and non-statutory charges for companies who want to invest in the area.
It is hoped the move will encourage developers to push ahead with non-residential projects across the region.
But the council has been urged not to promote out-of-town developments which could put extra strain on city and town centre stores.
The proposal is part of the council's plan to kickstart the economy after five months of lockdown.
Councillors met online on Thursday and backed the draft "recovery and growth" plan, which will now go out to public consultation before it is reviewed and finally approved before the end of the year.
Lib Dem councillor Peter Barrett said he had concerns about the fiscal stimulus section of the 74-pronged proposal.
He said measures to lift or reduce developers' fees "will only increase pressures on the council's capital and revenue budgets at a time when resources are scarce, and could lead to a skewing of vital funds to projects or developments which may not align closely with the council's covid recovery priorities."
He said: "I also don't want to endorse or support any signal that this council is promoting out-of-town development at a time when our city centres and town centres face real hardship. Our efforts really need to be concentrated on increasing city centre footfall, filling empty shops and premises.
"The last thing our town and city centre traders need at this present time, is an out-of-town retail site removing customers off our high streets and increasing unnecessary car journeys."
The report states that out-of-town retailing will be "considered on a case-by-case basis".
The plan was drawn up with feedback from local business. A study of 1,000 firms found that 20% had, or were planning to, cut staff.
Vicki Unite, chief executive of Perthshire Chamber of Commerce said the statistic presented a "worrying picture".
"Jobs in Perthshire are very much under threat as government support tapers off and demand remains reduced," she said.
"While job losses will have been tempered by the UK Government furlough scheme, the medium to long term outlook remains uncertain.
"We need to see consumer demand and confidence stimulated rapidly over the next few months and a programme of further government support targeted towards those sectors most in need and affected by operating guidelines as well as those individuals most at risk of long-term unemployment."
Shortly before lockdown, councillors approved the third Perth City Plan which outlined a vision for the future of the Fair City over the next 20 years.
Mike Robinson, who chairs the Perth Leadership Forum – previously the City Development Board, which led the plan – said: "There's a temptation in a crisis to be very short-term, and just throw money at a problem to try and create jobs and keep the economy afloat.
"But, whilst this is vital, it is essential that we keep an eye to the longer term or the efforts will amount to nothing."
He said: "Perth City Plan III is far-sighted enough that it still relevant and provides a useful strategic context for this short-term decision making."