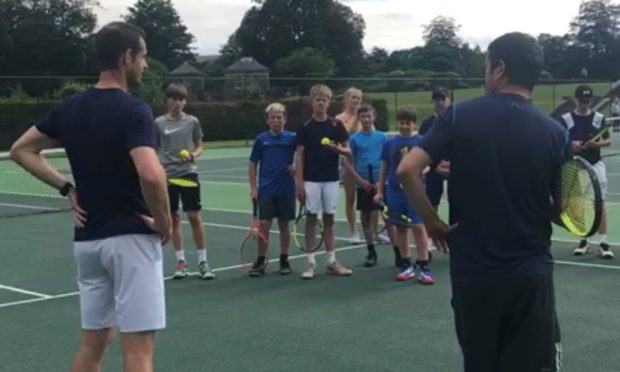 Wimbledon champion Andy Murray made a surprise stop at a Gleneagles tennis academy last week to the delight of young players working on their game.
The Scottish sport star made the unexpected visit to Adam Brown Tennis Academy on Thursday August 6, having already surprised a group of youngsters at a tennis summer camp in Dunblane earlier that morning.
Murray is in the area visiting family before heading out to the USA to start his preparations for the US Open but has found a lot of time to visit and inspire local youngsters who also love the sport.
'Never forget where you come from': Andy Murray surprises youngsters with unannounced visit to Dunblane tennis camp
The Wimbledon ace was the second former world number one to show off his skills to the junior players at Gleneagles with wheelchair tennis player Gordon Reid also training with the group.
Adam Brown, head coach at the academy, said surprise visit was a "real boost" for the young players.
He said: "They have been working hard since we've been allowed to play again and it was great that Andy could provide them with some added inspiration ahead of their tournaments hopefully starting again soon.
"We've been lucky enough to have former world number one wheelchair player Gordon Reid training with this group as part of his US Open preparations and then having Andy around to offer them some advice and tips has been a fantastic end to this current training block.
"They'll enjoy watching him compete at the US Open even more now."
Academy coach Joe Gill applauded Murray for taking his time out to support kids making their way in the game.
He said: "This was a fantastic opportunity for these players and something they will remember for a long time.
"As the next block of training starts as they go back to school they will all be trying that little bit harder to fulfil their potential.
"It was great of Andy to make time for this local tennis programme."
When Murray visited his old tennis club in Dunblane earlier that day, proud mum Judy took to social media to say: "Never forget where you come from."