Spectacular lightning storm causes travel chaos and flooding in Perth
An epic thunderstorm has caused travel chaos and flooding around Perth.
Torrential downpours throughout Wednesday morning have made several streets in the area impassable.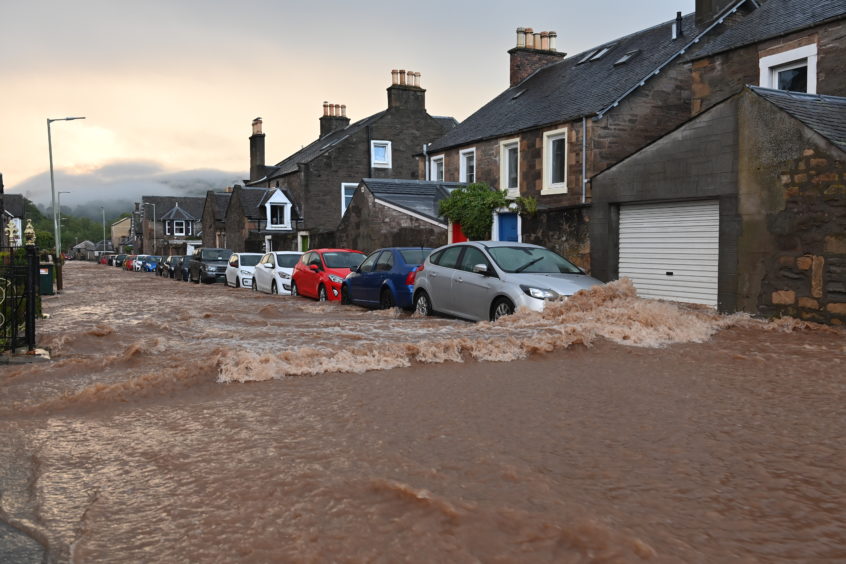 😓😓😓😓 pic.twitter.com/YPnOUgWlHa

— Cherrybank Inn (@CherrybankInn) August 12, 2020
The worst affected areas according to Perth and Kinross Council include Feus Road, Marshall Place, Wallace Crescent, Crammond Place, Crieff Road and Glasgow Road, as well as the A912 at Bogle Bridge.
The A9 northbound, between Gleneagles and Blackford, is also blocked, while the A827 has been closed by a fallen tree at Fearnan.
[TS] A9 #Gleneagles – Blackford – CLOSURE 🔴: The A9 is closed N'bound after Blackford due to flooding,Motorists are advised to use an alternative route and allow extra time for their journey. https://t.co/DRajAGsqdL

— A9 Scotland (@A9_Scotland) August 12, 2020
Perth High School will be closed today due to flooding, parents have been told.
It was supposed to be the first day for S1 students and the first day back for S5 and S6.
The council has also confirmed that Inchview and North Muirton primaries are also closed, while Glendelvine Primary is shut to P1-P3 and open to P4-P7.
Meanwhile, residents say Craigie Knowes Road is "like a river", while South Inch is "completely under water".
Flooding in Craigie tonight. Welcome back to school everyone! pic.twitter.com/0a69rSFVs6

— Perth High School (@PerthHighSchool) August 12, 2020
In the city centre, St John's Shopping Centre has announced it will be closed until further notice.
A spokesperson said: "Unfortunately, due to localised flooding which has backed up into the Shopping Centre, we will not be in a position to safely open for 9am this morning and the centre will remain closed until further notice.
"Our team has been working tirelessly since 3AM to ensure that we can safely open as soon as possible. We are aiming to have the centre reopen for this afternoon, but we will announce more details nearer the time."
This is an image from Platform 4 at Perth Station this morning. Given the significant rain water which has fallen across the country the rail network is experiencing significant disruption. Please check rail information prior to travel and leave additional time for your journey! pic.twitter.com/qWORwu9x7e

— BTP North Scotland (@BTPNorthScot) August 12, 2020
There will be more patrols today on the A90 between Perth and Aberdeen. Due to heavy rain, watch out for areas of standing water and check your tyres before your start your journey. #DundeeRP #PerthRP #Gosafe#Keepingpeoplesafe pic.twitter.com/UQSOApB7kA

— Road Policing Scotland (@polscotrpu) August 12, 2020
It followed a spectacular lightning storm that lasted several hours through the night. The area was hit by around 80mm of rain – about five weeks' worth.
Perth and Kinross Council said that individual schools will let parents know if they have been affected.
More to follow.