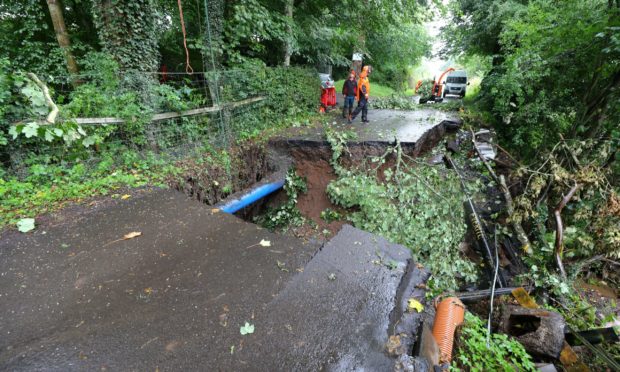 Communities across Perthshire are still picking up the pieces almost two weeks on from the dramatic lightning storms that swept the region.
The C414 Pathstruie to Path of Condie road remains out of use near Ardargie, adding up to 20 minutes onto journeys to Dunning.
Council bosses had hoped to fix damage to a culvert on Friday but the problem was found to be more serious than first thought.
One local said the closure was adding up to 20 minutes onto journeys to Dunning, adding: "It's going to take a serious amount of money to repair.
"Cars were still trying to go through during the storm and there must have only been inches of road supporting them. If it had been the wrong vehicle, it could have been gone for good."
A council spokesperson said the storm of August 11-12 aused significant damage to the Culteuchar Culvert on the C414 and the road is closed in the interests of public safety until repairs can be made.
"Engineers were due to install a temporary bridge on Friday 21 August but further deterioration of the culvert means additional work will be necessary," said the spokesman.
"Engineering officers are meeting with contractors to determine necessary measure required to continue to safeguard the public.
"Estimated dates for re-opening will be determined at the earliest opportunity."
Nearby, Forgandenny's Station Road remains shut after a significant chunk of asphalt washed away, exposing a gaping hole.
Perth residents face months out of homes as businesses hit with £30k bill for flood damage
Residents need to pass through the adjacent Strathallan School grounds.
A school spokesperson said: "We always endeavour to be good neighbours to those living in and around Forgandenny.
"It was agreed that we would not close one of our vehicular gates to ensure that any residents trapped by a local road made impassable by the recent weather are able to transit through school grounds if necessary.
"So far, this has had little-to-no impact on the school's day-to-day business. We have asked that the repairs to the damaged road are given high priority so that we can reduce transiting traffic."
Residents call for inquiry after Perth streets disappear under water
Almond and Earn councillor Henry Anderson said: "This was rain of biblical proportions. We could have more of this in future due to climate change.
"When infrastructure fails, we need to build it back better than before."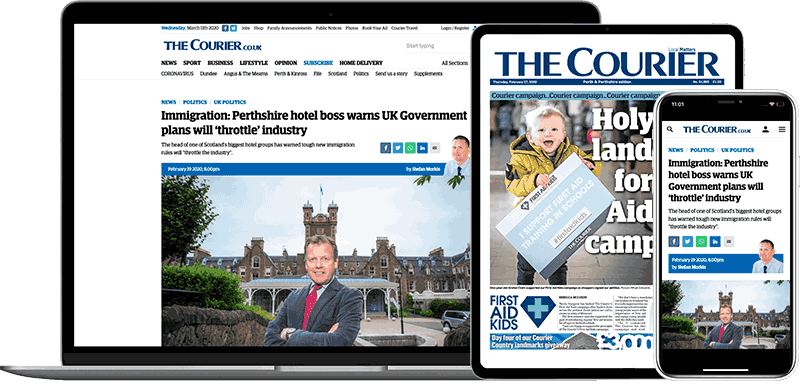 Help support quality local journalism … become a digital subscriber to The Courier
For as little as £5.99 a month you can access all of our content, including Premium articles.
Subscribe