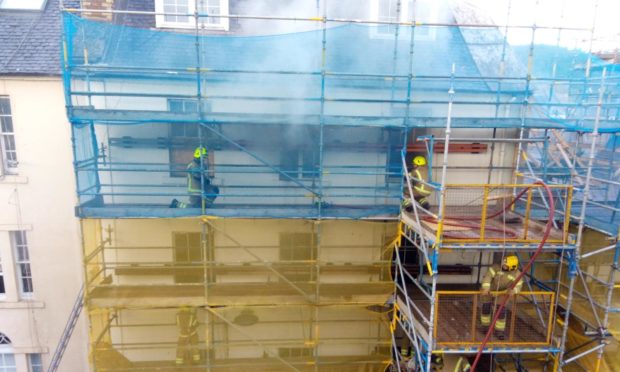 Bosses at a popular Perth bar have thanked the emergency services after a fire broke out in the abandoned flats upstairs causing around 20 people to be evacuated.
One man was treated for burn injuries after the blaze began in the flats above The Venue on St John's Street shortly before 6pm on Friday.
Emergency services rushed to the area with the Scottish Fire and Rescue Service (SFRS) sending 10 appliances, including and aerial platform and a command support unit.
Fire crews remained on site for over five hours as they tried to get the blaze under control as police set up an emergency cordon on the street.
Around 20 people evacuated from popular Perth pub after fire breaks out in building
Witnesses described flames coming from the windows of the flats and large plumes of smoke billowing from the building as firefighters scrambled up scaffolding to get closer to the fire.
The fire is the second disaster to strike The Venue in recent months after a chimney collapsed onto the roof in February, putting large parts of the pub out of commission.
The popular nightspot suffered smoke and water damage in Friday nights blaze and will remain closed until further notice.
A spokesperson for The Venue said: "As most of you will be aware our neighbouring building was on fire on Friday night, we think ourselves lucky the fire didn't come through to our building and thankfully nobody was hurt.
"We would like to thank all of the emergency services who helped with the situation especially the fire brigade who done an outstanding job.
IN FULL: Revellers 'millimetres' from death as Storm Ciara causes roof to collapse at Perth venue
"Unfortunately there is smoke and water damage so we will be closed until further notice but we do aim to be open by Friday August 28.
"Thank you to everyone who has messaged us with kind words of support and we look forward to opening our doors to you again soon."
The fire service eft the scene shortly after 11pm on Friday.
A spokesperson said: "Our last appliance left at 11.08pm.
"One adult male with burns to his hands was left in the care of the Scottish Ambulance Service."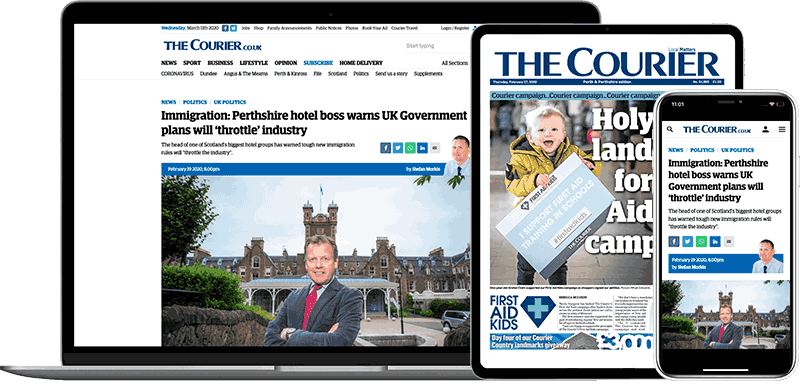 Help support quality local journalism … become a digital subscriber to The Courier
For as little as £5.99 a month you can access all of our content, including Premium articles.
Subscribe